By Keryn Curtis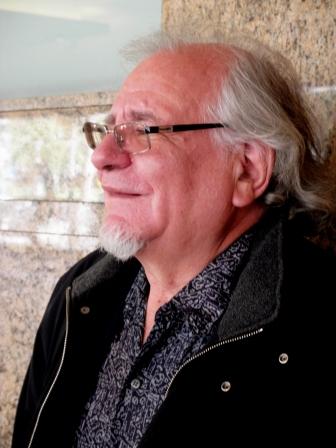 Above: Dr Hans Becker in Sydney this morning
The Humanitas Foundation's CEO, Dr Hans Becker, is visiting Australia from the Netherlands, to discuss details and answer questions about the renowned Apartments for Life concept in Rotterdam.
Dr Becker will be participating in a day-long workshop tomorrow at Sydney's Masonic Centre where 200 participants from across Australia will have the opportunity to explore not only the principles and philosophy of the Apartments for Life model but also to investigate and discuss the practical aspects of design, delivery and funding.
In Australian aged care circles, the Humanitas foundation in Rotterdam, the Netherlands, and its 'Apartments for Life' model of housing and lifestyle is often regarded with quiet reverence.
Scores of aged care providers, researchers, government bureaucrats, housing experts and architects alike have made the pilgrimage to Rotterdam in the last decade and few have returned with anything but praise for the model of seniors housing and care which puts human happiness at the centre of its mission.
The colourful Dr Hans Becker is integral to the Humanitas Apartments for Life philosophy – and to any study tour or visit – which helps to explain the popularity of the workshop.
Yet, despite its high profile and the keen interest in the Humanitas model, Australia is yet to see the Apartments for Life concept fully realised in this country. The Benevolent Society, under the patient stewardship of General Manager of Ageing, Barbara Squires, is inching closer to its much discussed Apartments for Life Ocean Street development in Sydney's Bondi Junction. Several organisations have flirted with elements of the model – such as designing atriums and including a café or restaurant and other services – without taking on the philosophical approach.
The popular adoption of particular elements of the Apartments for Life concept as a kind of marketing strategy concerns Dr Becker.
"In the US, there are many examples of beautiful buildings with many wonderful facilities and they might look the same, but they are not. The residents will all be well off, there will be a separation between the well and the sick.
"In the Humanitas model there is a mix of rich and not rich, of ill and not ill, of heterosexual and homosexual – it is an important mix," he said.
"Often, people will say, oh well that wouldn't work for us here, people don't like things that way or it is different in Holland. And that gives them an excuse not to do it. But people are the same everywhere in the important sense, regardless of the insurance system or the economic environment."
As Australia faces a new and challenging future aged care landscape, new housing and support service options that can meet evolving consumer demand, are becoming increasingly important and strategic. The Australian Housing and Urban Research Institute (AHURI) has published some recent papers and held a number of seminars on the housing challenges for older Australians, reports that have influenced the Productivity Commission's draft report on Caring for Older Australians.
Dr Becker is aware of the PC report though not intimate with the details. However he warns that too great an emphasis on a 'bottom up' approach – where the consumer has total choice and influence in design and delivery of services – is just as bad as a 'top down' approach.
"We have 10,000 people on our waiting list at Humanitas but few of them and our current residents would have designed and chosen all those elements and the philosophy they now enjoy. There needs to be a balance," he said.
"The bricks and mortar are important but it is the philosophy and the atmosphere and positivity that are essential. It is the culture of always saying yes as a first response.
Not everything is going to be possible but the first response should be an acknowledgement that what someone wants is OK. Yes, let's see what we can do," he said.
As an Apartments for Life resident of six years himself, the 69 year old Dr Becker believes in walking the talk.
Dr Hans Becker will be conducting a workshop all day tomorrow at Sydney Masonic Centre. Some places are still available. All delegates will receive a copy of Dr Becker's new book, Hands Off Not an Option. Click here for details.
Dr Hans Becker pioneered by the Humanitas concept in the mid 1990s. From 350 apartments in three complexes in 1995, the organisation has expanded to 15 complexes comprising 1,700 apartments and some 2,550 residents. In addition to being CEO of the Humanitas Foundation, he is the driving force behind Apartments for Life. He is also a Professor of Humanising of Care at Utrecht University and an Instructor in Executive Education at Harvard University.