ACT provider Goodwin Aged Care has hired a pharmacist to work across its three residential aged care facilities as part of the organisation's goal to improve resident access to medications.
The new appointment follows a successful six-month pilot Goodwin conducted at its Monash David Harper House facility in 2017 involving accredited pharmacist Richard Thorpe monitoring and dispensing medication.
The trial aimed to test the effectiveness of having an on-site pharmacist for both aged care residents and the staff providing care and in reducing medication errors and the risk of side effects that may result from medications.
The research conducted in collaboration with the University of Canberra found that many aged care providers were safely distributing medications, however Goodwin was the first to have an on-site pharmacist working in an aged care facility.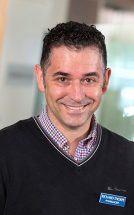 In his now permanent role, Mr Thorpe will be working with specialists within Goodwin to conduct medication reviews and provide clinical interventions at its Ainslie, Farrer and Monash facilities during the week.
Mr Thorpe has over 25 years of experience working with leading organisations across Australia and the United Kingdom.
His key areas of focus include antimicrobial and antipsychotic stewardship and ensuring there is quality use of medications among residents.
Goodwin CEO Sue Levy said the research project aimed to make a difference in the lives to its residents.
"It demonstrates our commitment to researching innovative new models, but also ensuring that the positive findings are put into practice," Ms Levy said.
Ms Levy said Mr Thorpe's involvement was part of Goodwin's efforts to reduce adverse drug events and health complications.
"Richard's engagement is yet another milestone in our ongoing efforts to provide best-in-class medication safety for our residents and clients," Ms Levy said.
Comment below to have your say on this story
Subscribe to Australian Ageing Agenda magazine and sign up to the AAA newsletter