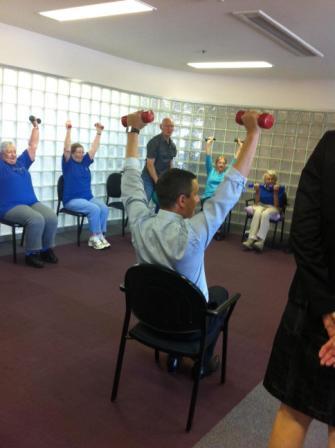 Above: Minister for Mental Health and Ageing, Mark Butler, gets in on the activity
The Minister for Mental Health, Ageing and Social Inclusion, Mark Butler, was in Tasmania last week visiting the Queen Victoria Home in Lindisfarne, one venue where the government's Day Therapy Centre (DTC) program can be seen in action.
Mr Butler and the federal Member for Franklin, Julie Collins, met residents who receive support through the program, which aims to promote positive ageing and independence.
The DTC program provides older people living in their homes and in low-level residential aged care with a range of services to help them recover or maintain their independence.
Day therapy services to help residents of the Queen Victoria Home age well include physiotherapy, hydrotherapy, podiatry and community transport, which is also open to local seniors.
Mr Butler, who has been engaged in a series of 'conversations' about aged care around Australia since last August, said that support in maintaining independence was a particularly important desire among older Australians.
"Older Australians are living longer, healthier and more prosperous lives than ever before and the overwhelming message that I'm hearing is that they want more support to live independently for as long as possible," Mr Butler said.
"Our continued support of services such as day therapy will support our ageing population to age well and remain in their own homes and communities, close to family and friends."
Ms Collins commended the staff of Queen Victoria Home for providing high quality, innovative care to local seniors.
"The Queen Victoria Home is well known in our community for providing a range of services that support healthy and positive ageing including Tai-Chi, strengthening exercises and walking groups," she said.
"Services like this are incredibly important to local seniors who want to remain, healthy, active and engaged in their communities."
The Gillard Government provides $1.25 million each year for day therapy services in Tasmania, according to the Department of Health and Ageing, which were accessed by over 3,500 Tasmanians last year, adding up to over 14,000 hours of therapy.
"Giving older Australians more choice in the support and care they access is critical to our efforts to build a sustainable aged care system that meets the needs of older Australians and their families," the joint statement reads.