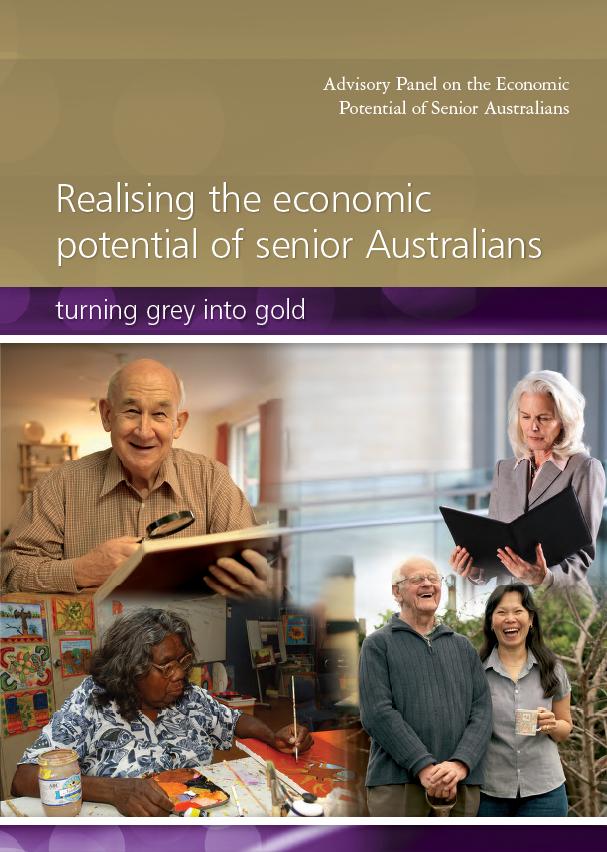 Above: The report, Realising the economic potential of senior Australians: turning grey into gold.
By Stephen Easton
The Treasurer's Advisory Panel on the Economic Potential of Senior Australians handed down its third and final report yesterday, with a heavy focus on active ageing among 36 recommendations on "turning grey into gold".
The new report looks forward to 2050, setting out a bold vision to "embed a national ageing agenda in Australia" though initiatives at all levels of government, according to the panel chair, Everald Compton.
The far-reaching report goes beyond ideas to fight age discrimination and keep older Australians in the workforce, into policy suggestions on encouraging lifelong learning and increasing the availability of age-appropriate affordable housing.
Only one of the 36 recommendations is not directed at government, but to seniors themselves, calling on them to bequeath money to "organisations working for the betterment of society, especially in the areas of research and innovation".
Mr Compton, who founded advocacy group National Seniors and led the organisation for 36 years, said the panel wanted seniors to serve the nation as volunteers and "help turn Australia into a powerhouse of philanthropy".
One of the major recommendations – appointing a cabinet minister to champion active ageing, age-friendly environments and a whole-of-government approach to maximising the potential of an ageing population – could be said to have already been fulfilled with the elevation of Mark Butler to the top table as Minster for Mental Health, Ageing and Social Inclusion (see Keryn Curtis' article here, and Mr Butler's acceptance speech here).
"We have been telegraphing that issue to the government right from the start," Mr Compton said. "It was only by a fluke that our report, which was signed off a couple of weeks ago, went to the printers and ended up being handed to the Treasurer on the same day that the the government annouced they were [promoting Mark Butler to cabinet]."
The word 'Ageing' was also dropped from the Health portfolio in yesterday's ministerial reshuffle, leaving it the sole responsibility of Mr Butler, which Mr Compton described as "another plus".
The veteran lobbyist said the panel had also come to the conclusion that as employers, governments were the worst age discrimination offenders, due to more than fifty instances found in various rules and regulations governing the public service, all of which had been referred to the Age Discrimination Commissioner for review.
"There are all sorts of regulations in the public service that have been there for decades – there are some fifty areas – where there is quite clear discrimination against older people as to what year they can come into the public service or what year they can leave. We want those more than fifty areas of discrimination removed.
"What we've said is that governments discriminate more than commerce and industry."
But it remains to be seen if other recommendations will be taken up, including the establishment of an Office for Active Ageing to develop a national framework based on the World Health Organisation's Active Ageing principles, including "wellness, age-friendly environments, availability and accessibility of effective health care, and active participation in all aspects of community life".
National Seniors CEO, Michael O'Neill, welcomed the report and expressed hope that a dedicated cabinet minister and a commitment from business could combine to "provide a strong start in realising the full potential of older Australians", but wasn't counting his chickens before they hatched.
"Prime Minister John Howard was the last politician to liken seniors to 'gold' when he urged businesses to take on 'Gold Collar' workers in 2001 at the National Press Club," Mr O'Neill said in a statement.
"It's disappointing that ten years on we're still talking about the same thing."
Mr O'Neill added that the government had, also around ten years ago, begun devising a "national strategy which encompassed world class care, lifelong learning, retirement income and mature age employment" , and described the latest report as "only a first step".
"The real challenge for government will be to follow it through so that, ten years on, it isn't sitting on a shelf gathering dust with all the others," he said.
The chief executive of COTA Australia, Ian Yates, was less equivocal in his support for the recommendations, which he said had handed the government "an urgent and achievable agenda" to make life better for older citizens at the same time as improving the nation's productivity.
"COTA calls on the Prime Minister and the Treasurer to make the 2012 Federal Budget the ageing and aged care budget by implementing these recommendations and the Productivity Commission's recommendations on aged care reform," Mr Yates said.