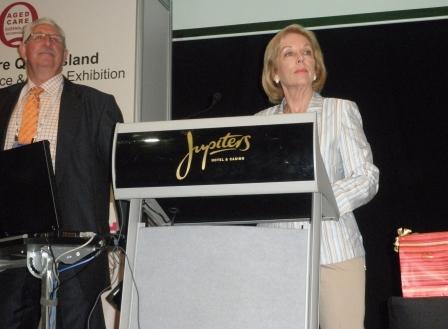 Above: Ita Buttrose talks tough on obesity and euthanasia
By Keryn Curtis
Celebrities, bureaucrats, researchers, business advisers and peers came together in a dynamic and productive mix at last week's annual Aged Care Queensland conference at Jupiter's Casino on the Gold Coast.
Former Australian fast bowler, author and broadcaster, Max 'Tanglefoot' Walker was back again this year with his enthusiastic and charming approach to playing MC, peppering proceedings with warm and amusing anecdotes and wry observations.
Following a summer of unprecedented weather events, natural disasters and previously unseen human tragedy for Queensland, disaster planning and management never seemed far from the program. Delegates heard accounts of devastating floods and cyclones but also extraordinary leadership, courage and resilience from many care providers and individuals under extreme conditions. A useful resource made available for delegates was The Australian Red Cross 'emergency REDiPlan' – a step by step emergency preparedness guide for older people – downloadable from the Red Cross website (click here).
Journalist and author turned ambassador for ageing issues, Ita Buttrose, told delegates on day one that it was time the government took off the velvet glove and put on the iron fist to confront the huge public health issues around obesity. Our lack of focus and self restraint in relation to diet and exercise is killing us, she said, and is one of the single biggest contributors to the burgeoning costs of public health
"We have become one of the fattest nations on earth," she said. "Obesity is one of the biggest challenges we have and the government is just too timid and polite about addressing it."
"Exercise, using weights, being active all should be mandatory in nursing homes."
Buttrose also said that the whole issue of ageing and dying needed to be brought into the open. "Life and death issues are confronting but we can't ignore them. A national discussion on euthanasia is long overdue," Ms Buttrose said.
The obligatory presentation on the Productivity Commission's draft report on Caring for Older Australians, presented in this forum by Assistant Commissioner, Paul Lindwall, confirmed the three biggest concerns expressed by the aged care sector:
"It is clear we have underdone 'quality' and the final report will have a whole chapter dedicated to that," said Mr Lindwall.
He said it was also clear that the proposed standard for a concessional resident being set at a two-bed room with shared bathroom was not acceptable to the sector. Transition arrangements regarding the period of change from the bond environment to periodic payments were another major concern being heard by the Commission, he said.
A presentation from Brisbane based aged care lawyer and governance expert, Brian Herd was a popular concurrent session and did not disappoint fans. "How many of you regard yourselves as 'purveyors of fine care'?" he challenged the audience in his highly entertaining talk on Rights, Risks and Regulation.
Another ACQ highlight was a presentation by ABC radio and television broadcaster and author, Dr Norman Swan, who honed in on some of the systemic challenges embedded in the health system and the key 'game-changers' in longevity and health.
"One of the biggest game-changers for life expectancy is being a fair society," Dr Swan told delegates.
"If we become a less fair society, our life expectancy goes down and our disability levels increase. If we stop smoking, our risk of heart disease drops within hours. The gains are hugely disproportionate, and politicians don't see the benefits" he said.
Dr Swan also addressed workforce issues and changing models of healthcare, praising innovative approaches such as preventive health strategies and hospital in the home programs.
"We need game-changers on workforce. […]…we wait too long for doctors because it is 'protocol-driven' work. We need a new breed.[…] we need nurse practitioners who can deal with things quickly."
Minister for Mental Health and Ageing, Mark Butler, was unable to attend the conference but agreed to be interviewed on camera at Parliament house the week before the conference. ACQ's new CEO, Nick Ryan, surveyed registered conference delegates for any topics or questions they wanted the Minister to address. The questions were posed in a recorded video interview with Australian Ageing Agenda and the 30 minute one-on-one was played at the conference in lieu of the Minister appearing personally.
In the interview Minister Butler told delegates that the government was committed to the reform process but that it needed to move in a measured way. He said the implementation plan would depend on the final report and timing issues but that everything was 'on the table'.
Minister Butler said he believed bipartisan commitment was essential and urged providers to write, phone and lobby their MPs to emphasise the importance of reform.
He also said it was important for the sector to work together to support the reform process. He praised the National Aged Care Alliance (NACA), saying it was a constructive group and warned against competing voices.
"If the sector can't agree, the Parliament can say, well if they can't agree, how can we be sure it is a good thing?"
In closing, Minster Butler said he wanted to mention the sector's response to the challenges of floods and cyclones over the summer.
"The response of the sector was just amazing and the response of the providers, in terms of having plans in place and being able to implement them […]; the response of staff and some of the people I met who had worked five straight shifts [… ] Anna Bligh was right. You're a different breed up there […]"
"The sector really did perform admirably. The interests of the older Australians for whom your job is to care was very well looked after over that couple of months and you should feel very proud about that," Minister Butler said.