Long-serving aged care chief executive Ian Hardy has been appointed chair of the new committee tasked with reviewing the skills and qualifications for the future aged care workforce, the government has announced today.
Mr Hardy, who will retire as CEO of Helping Hand at the end of the year, will lead the Aged Services Industry Reference Committee with support from deputy chair Robert Bonner, director of operations and strategy at the Australian Nursing and Midwifery Federation.
The establishment of the reference committee, a recommendation of Professor John Pollaers' 2017 report on the aged care workforce, and its membership were announced by Australian Industry and Skills Committee last week (read more here and here.)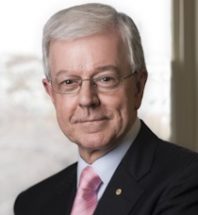 Mr Hardy said this role would allow him to keep contributing to aged care after he stepped down from Helping Hand after 28 years.
"John Pollaers' report is one of the most original and significant contributions to the sector for many years, so I see it as a great privilege to have the opportunity to assist in its implementation," Mr Hardy told Australian Ageing Agenda.
Professor Pollaers, who is chair of AISC, said Mr Hardy had a huge amount of experience and the right calibre to get the most out of the contributions from the many and varied skills, industry and employee representatives on the committee.
"Ian's built in Helping Hand an organisation that genuinely invests in workforce and not just in personal care and nursing but right across all dimensions, and he brings a kind of gravitas because the IRC has a very broad remit," Professor Pollaers told sister title Community Care Review from the sidelines of the LASA Congress.
"The IRC under his leadership is about firstly addressing current skills gaps and then putting in place the right kind of framework for qualifications, for micro-credentialing and accreditation covering all of the job families necessary to make this industry work inside residential and home care and in the primary and acute systems as well," he said.
Professor Pollaers also welcomed Mr Bonner's appointment and said the committee's broad remit would look at qualifications across all sectors that supported aged care consumers.
"The Aged Services IRC will consider areas as diverse as nutrition, recreation and financial services, ensuring that the workforce is properly equipped and supported, and has access to lifelong learning and meaningful career paths.
"It is important that this IRC responds to the broader skill sets needed to ensure all industries have the workforce capabilities to support older Australians," he said.
The AISC said it had received unprecedented interest from organisations and individuals wanting to be involved in and support the work of the IRC.
The following 10 advisory groups have been confirmed:
consumer needs and expectations
residential care
home care and community care
indigenous and remote services
diversity and inclusion
dementia
palliative care
mental health
nutrition and the mealtime experience
pathways and tertiary education.
Individuals and organisations can register their interest in participating in an advisory committee or consultations here.
Comment below to have your say on this story
Subscribe to Australian Ageing Agenda magazine and sign up to the AAA newsletter