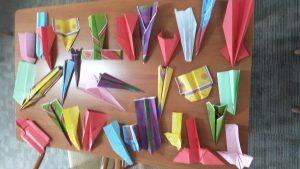 A New South Wales aged care provider and a local childcare centre are working together to raise awareness of mental health issues.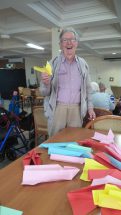 Residents from Peninsula Villages in Umina and children from Wallaby Street Early Learning Centre in Blackwall have folded and decorated 200 paper aeroplanes to donate to a public display at Newcastle Airport cordinated by mental health charity WayAhead.
Peninsula Villages chief executive officer Shane Neaves said the paper aeroplanes were special because each was unique, either by their design, colour or markings.
"The planes we have made are even more special by the intergenerational partnership with the local kids from Wallaby Street Early Learning Centre who helped our residents with the folding and making of them," Mr Neaves said.
"The challenges faced by people suffering from mental health conditions are also unique. They can take time, patience and understanding to live with, and hopefully overcome."
Peninsula Villages encourages a sense of community to help residents maintain good mental health,  Mr Neaves said.
"Whether it be through activities, excursions, or sharing a cup of coffee, the simple act of connection with others can make such a big difference at any stage of life, including later life," he said.
The aeroplanes will be showcased in October as part of Mental Health Month.
Supporting farmers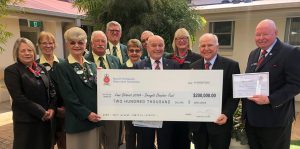 Elsewhere, NSW and ACT aged care provider Royal Freemasons' Benevolent Institution has donated $200,000 to the Lions Club to support drought-affected Australian farmers in rural NSW.
It follows a $175,000 donation the provider made in May this year to the Lions Club to provide hay to 150 farmers in Dubbo and surrounding areas to feed animals.
RFBI chairman David Adams said farmers needed support for their families as well as food for their livestock.
"This donation is designed to help our local farming families and local communities. The money will be used to provide farming families with essentials and gift cards to spend within their local communities," he said.
RFBI has identified the importance of healthy minds and bodies to ensure farmers and their families can continue the long journey ahead, said Anne Jones, Lions Club District 201N4 district disaster alert chairperson and drought relief coordinator.
"This is the most severe drought we have seen since 1902 and we sometimes forget what the impact of drought has on our farmers and their families," said Ms Jones, deputy mayor of Dubbo Regional Council.
The social impact of droughts is huge, said retired farmer John Davis, who works closely with the Lions Club to assist drought relief efforts.
"Drought leads to water and food shortages, which leads to job losses. Rural towns are struggling to survive," Mr Davis said. "On behalf of all our farmers in our district, thank you RFBI for your very generous donation."
Mr Adams said RFBI would continue to support farmers in the communities they have services.
"RFBI has been helping people in need for over 139 years and as an active member in each of our local communities, we know firsthand the challenges farmers are facing right now," Mr Adams said.
Comment below to have your say on this story
Subscribe to Australian Ageing Agenda magazine and sign up to the AAA newsletter