Declining residential aged care occupancy is putting further pressures on the already deteriorating financial performance of providers, says StewartBrown senior partner Grant Corderoy.
StewartBrown's latest financial performance report shows aged care homes on average operating at a loss of $7.30 per bed per day in the first quarter of this financial year, which coincided with lockdowns in New South Wales and to a lesser extent Victoria, both due to the Delta variant.
It is a slight improvement on the previous year end results ($8.43 deficit), the September 2021 Aged Care Financial Performance Survey of 1,198 aged care homes shows.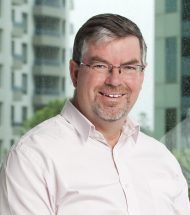 However, providers were $10 better off in funding as the basic daily fee supplement commenced from 1 July, meaning the result really represents another deterioration, said Mr Corderoy.
"And it's a deterioration across the board," Mr Corderoy told Australian Ageing Agenda. "We saw that in direct care revenue – ACFI – and the costs of providing the direct care," he said. "Everyday living services when you include administration are still running at a significant loss and accommodation services as well [are experiencing] a slight loss. So residential aged care has got some significant issues."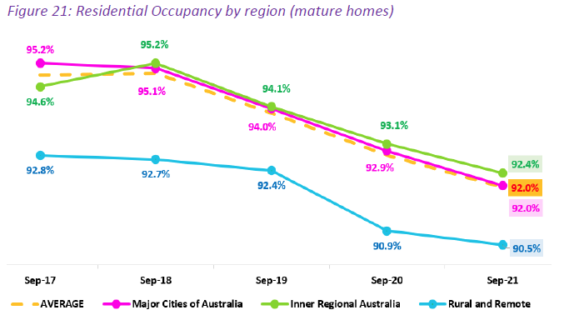 Mr Corderoy said the other concern is the drop in occupancy, which fell for both all and mature homes to 90.7 per cent and 92 per cent respectively, from 91.5 per cent and 92.8 per cent 12 months before.
"It has gone down again, and I believe it's not just due to COVID. It is actually due to the increase in home care packages. We've had significant increase in home care packages over the last two years and … that has affected residential aged care occupancy. And the occupancy dropping, that also affects the financial performance."
Impacts of Omicron
The report, which was delayed due "to the continuing effects of the Omicron variant" and competing priorities of providers, shows that more than half of aged care homes continue to make an operating loss nationally (56 per cent) and in major cities (53 per cent), inner regions (61 per cent) and rural and remote areas (57 per cent).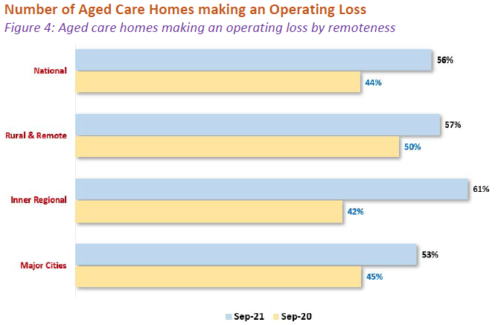 Mr Corderoy expects Omicron will perpetuate some of the existing issues and impact providers' finances even further as short-staffed homes are forced to pay additional overtime and agency fees.
There are 14,257 aged care staff cases associated with active outbreaks as of 27 January, according to the latest government data.
"Omicron staffing is a huge issue and that needs to be resolved. There needs to more remuneration," he said.
On what providers can do to improve their financial situation, Mr Corduroy said it was "really difficult". He reiterated the need for policy changes such as deregulating the basic daily fee and structural changes to accommodation pricing including to make a portion of refundable accommodation deposits a deferred rental to make it more equitable for consumers and providers.
Accommodation pricing is probably one of the few areas providers can increase their returns, he said. "The majority of providers have cut most of the costs as low as they can and we know that they're going to have to probably put more into direct care costs… Future funding has got to be a combination of government taxpayer funding [and] consumer co-contributions."
Access September 2021 Aged Care Financial Performance Survey
Comment on the story below. Follow Australian Ageing Agenda on Facebook, Twitter and LinkedIn, sign up to our twice-weekly newsletter and subscribe to AAA magazine for the complete aged care picture.