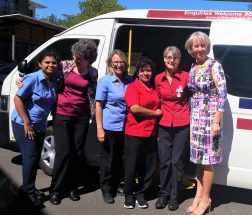 Aged care providers in Sydney have rallied to ensure the safety and wellbeing of residents during this week's bushfires.
The NSW Government declared a State of Emergency on Monday ahead of predicted catastrophic and worsening bushfire conditions in the Greater Sydney and Greater Hunter regions.
Due to the threat of bushfire, residents from RSL LifeCare's Rowland Village in Galson were relocated for two nights until the catastrophic fire danger warning was lifted.
Catholic Healthcare McQuoin Park located in Wahroonga took on 15 of the residents.
Catholic Healthcare residential manager of McQuoin Park Julie Farquhar said they welcomed the RSL LifeCare residents on Monday night.
"Our community services team provided two buses to pick up the residents and bring them to McQuoin Park where we had set up 15 beds in our activities room," Ms Farquhar said.
Kitchen and catering personnel prepared supper on Monday night and meals for the next day and night and music, games and DVD's were provided for the residents during their stay, she said.
RSL LifeCare employees joined their residents at McQuoin Park to support and provide familiarity and stability for the residents, Ms Farquhar said.
She said all at McQuoin Park were happy to help out to support the residents and their fellow provider.
"While fortunately there was no fire, this experience has been a great dress rehearsal to test our capacity to deal with a crisis.
"In the event we are called upon to assist again, we know how effective we can be at short notice," Ms Farquhar said.
The NSW Rural Fire Service said on Friday morning that more than 1,300 firefighters worked overnight on 59 bush and grass fires currently burning across NSW including 35 uncontained fires
Aged care providers are required under the Aged Care Act to have appropriate procedures to manage emergency events, such as bushfires, cyclones and heatwaves (read more here).
More than 1300 firefighters have worked overnight on the 59 bush or grass fires currently burning across NSW at 6am, with 35 not yet contained. Five fires remain at the Watch and Act alert level. There's an increased risk of fire today with 8 areas under a Total Fire Ban. #NSWRFS pic.twitter.com/wMUxd9Z6kF

— NSW RFS (@NSWRFS) November 14, 2019
Comment below to have your say on this story
Subscribe to Australian Ageing Agenda magazine and sign up to the AAA newsletter