Taking an antidepressant or an opioid doubles the risk of a fall and hip fracture while some psychotropic drug combinations increase the risk five-fold, a new study has found.
The University of South Australia research published in the Australian Prescriber this week looked at the link between hip fractures and the use of psychotropic drugs used to treat depression, pain, anxiety and dementia.
The nation-wide study involving 8,828 veteran affairs beneficiaries who had had a hip fracture and 35,310 matched control subjects of the same age and gender examined medicine use in the six months prior to fracture.
The average age of participants was 88 and 63 per cent were women.
The study found that taking an antidepressant, particularly selective serotonin reuptake inhibitors (SSRIs), or an opioid increased the risk of a fall and hip fracture more than other psychotropic medications, said Lead researcher Professor Libby Roughead.
"We found that these medications doubled your risk of falls when you're in your 80s," Professor Roughead told Australian Ageing Agenda.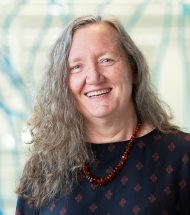 "When you use two together, that risk comes up even further," said Professor Roughead, research professor at the School of Pharmacy and Medical Sciences at the University of South Australia.
"We found that the SSRI antidepressants and the opioids had a higher risk than some of those medicines that we previously knew could make you at risk of falling over," she said.
Psychotropic drugs including anti-epileptic medicines, benzodiazepines (which are used to treat anxiety) and antipsychotics (which are used to treat schizophrenia and bipolar disorder) also increase the risk of hip fracture and combining them increases that risk further, Professor Roughhead said.
"Benzodiazepines and SSRIs, when started together, increase the risk of hip fracture five-fold. This equates to one extra hip fracture for every 17 patients aged 80 years and over who are treated for a year," Professor Roughead said.
The study focused on SSRI and opioids because medications such as benzodiazepines and antipsychotics have already been widely researched in the aged care.
Professor Roughead said the key message was to take the totality of a person's risk into account when prescribing medications, especially when two or three of taken together can make it worse.
"If you have a patient who has a high risk of falling over, you want to be really careful in using these medications and using them for the least amount of time and at the lowest possible dose," Professor Roughead said.
Non-medication interventions should also be considered to reduce the risk of falls, she said.
"Exercise classes that focus on improving balance and building strength can reduce the risk of falls. An occupational therapist can improve home safety, a podiatrist can help if a patient has foot pain and regular eyesight checks can help too.
Access the Combination psychotropic medication use in older adults and risk of hip fracture report here.
Comment below to have your say on this story
Subscribe to Australian Ageing Agenda magazine and sign up to the AAA newsletter