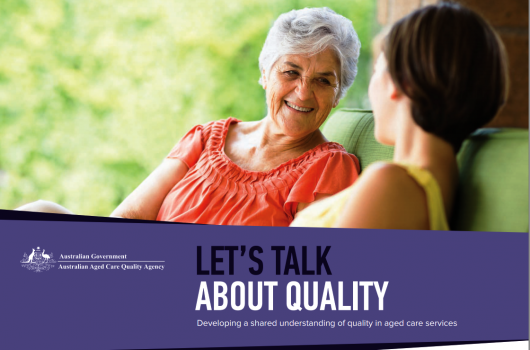 Aged care providers and staff, consumers, family members and academics are encouraged to have their say on what constitutes quality in aged care, with the Australian Aged Care Quality Agency seeking input to inform the review of the standards.
The Quality Agency has produced a discussion paper to stimulate discussion and debate about the best ways to describe, encourage and monitor quality in aged care services.
CEO Nick Ryan said that what "quality care" meant and how it was measured were more important questions to consumers than whether a provider was meeting the legislated standards.
"People are looking for quality," Mr Ryan said.
The discussion paper canvassed quality from a number of perspectives including history, drivers for change and desired outcomes. The discussion was shaped around five themes:
Putting consumers front and centre
Safety is essential but not enough
Integration across the aged care experience
A quality culture that encourages excellence
Leadership and innovation
Ultimately, the feedback would inform the review of the current standards, and help identify ways to better understand the consumer experience, as well as themes for further engagement and education, the agency said.
"We want this to be the beginning of an authentic engagement process that is ongoing and dynamic," said Mr Ryan.
Read the discussion paper on the Quality Agency's website and provide views through the feedback channel.
Want to have your say on this story? Comment below. Send us your news and tip-offs to editorial@australianageingagenda.com.au 
Subscribe to Australian Ageing Agenda magazine (includes Technology Review)