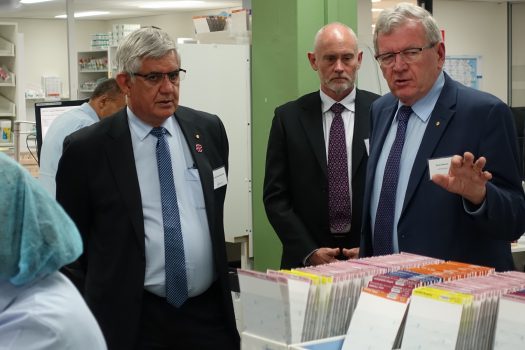 Aged care medication management vendor Webstercare has recently hosted the aged care minister to discuss the challenges pharmacies face while supporting aged care residents.
Minister for Senior Australians and Aged Care Ken Wyatt Wyatt met with Webstercare managing director Gerard Stevens last Monday to discuss streamlining the provision of medication management services in aged care homes.
The visit to Webstercare's Sydney site came after Mr Stevens wrote to the minister to highlight concerns for pharmacies that provide services to residential aged care facilities.
Mr Stevens said he wanted to ensure Minister Wyatt understood an anomaly in pharmacist payments for professional services provided to aged care residents compared to community clients.
"A community patient has full access to various Medschecks conducted by pharmacists. When the same customer crosses the threshold into residential care, the pharmacist continues to provide these services, but the payments stop with immediate effect," Mr Stevens said.
"If an aged care resident deteriorates overnight, the pharmacy is expected to deliver urgent pain relief or antibiotics free-of-charge and in the majority of cases the pharmacist does," he said.
"A Medicare fee is payable for a doctor to provide an emergency service to an aged care resident but no payment exists for pharmacies to provide similar emergency services."
Australian Ageing Agenda asked Mr Wyatt whether he or the government was considering reviewing payments for pharmacies for professional services provided to aged care residents.
Mr Wyatt said Webstercare was an innovative and successful Australian company.
"I was pleased to see firsthand its work, which has particular relevance to senior Australians, and welcomed the opportunity to discuss a wide range of issues around medication management," Mr Wyatt told AAA.
Mr Wyatt was given a tour of Webstercare's pharmacy – Metropolitan Pharmacy Services.
Mr Stevens said he showed Mr Wyatt what goes into medication profile management and curation, and the necessary behind-the-scenes processes that ensure complete accuracy of medication dispensed by pharmacists using Webstercare systems.
Mr Stevens said he was grateful for Minister Wyatt's time and interest.
Comment below to have your say on this story
Subscribe to Australian Ageing Agenda magazine and sign up to the AAA newsletter