Aged care facilities could lose more than $6,000 on average per resident annually under proposed changes to the Aged Care Funding Instrument, according to a new analysis.
The analysis seen by Australian Ageing Agenda shows the impact of the changes varied widely across the eight facilities examined – from a net benefit of $4,700 per resident annually to a loss of $20,000 per resident.
Allied Care Group, a consultancy that advises facilities on ACFI, examined the impact of Richard Rosewarne's proposed "Revised-ACFI" against the current ACFI.
It reported on three residents per facility – of low, medium and high care needs – across eight residential facilities around Australia.
David Ruyg, services consultant with Allied Care Group, said that including residents of mixed need actually reduced the impact of the findings "as high care residents tend to have the greatest funding decrease and are more common in most facilities than low care residents."
The activities of daily living domain was the highest funded area of the tool currently but was the area likely to see greatest reductions in spending, he said.
"In the facilities we work with we see about 40 to 60 per cent of residents in the medium to high range of the ADL domain, and we expect they are all going to lose funding," he said.
Mr Rosewarne's proposals include fewer and simplified questions in the tool, a new therapy program for pain management and potential options for external assessment (read our backgrounder here).
On the eve of his review's launch last October Mr Rosewarne told AAA: "Physical therapy is what the industry wants and is best practice."
The new therapy program would be paid for by moving pain management items and the associated funding of $15 per day out of the complex health domain.
Allied health peak bodies have previously welcomed the proposal.
But Mr Ruyg said the new analysis found that while the therapy program would increase funding by $15 per day, allowing for $95 per hour to pay an allied health professional, this would still not be sufficient funding to cover the cost of delivering the program for some facilities.
"For every resident where we have included the therapy program it's likely that the funding loss would be $5,475 per annum greater than it appears in this report for some facilities," Mr Ruyg told AAA.
"If you're a small regional facility that doesn't have access to an allied health professional, or they have to travel to be at your facility, the costs are greatly increased and most likely residents will go without that care and the associated therapy program funding," he said.
Mr Ruyg said he agreed with the idea of having therapy programs for residents but the way it had been structured in the Revised-ACFI meant it may not be feasible for all facilities.
He said that the points required to lift a resident to a medium or high classification in the activities of daily living domain would be extremely difficult to achieve.
"This means that although some residents would receive a small increase in funding ($7.89), these same residents would remain at the low level of funding for a lot longer thus eroding any potential benefit in the long term."
Average annual funding change per resident at each facility under Revised-ACFI according to Allied Care Group: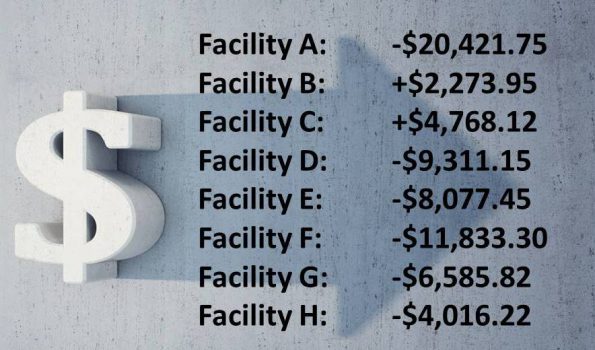 As AAA has previously reported allied health peak bodies representing exercise physiologists, occupational therapists and physiotherapists have all backed the proposed new therapy program.
In their pre-budget submissions provider peak body Leading Age Services Australia called on the government to reject Rosewarne's recommendations, while Aged and Community Services Australia called for no changes to ACFI without consultation and pilots "to ensure the impacts on quality of care for residents and provider sustainability are understood."
Minister for Aged Care Ken Wyatt released Mr Rosewarne's report in October but has made no comment since on whether the government accepts the key recommendations.
Meanwhile, the final report of the "landmark" Residential Utilisation and Classification Study (RUCS) into costs in residential aged care is due in December 2018.
Comment below to have your say on this story
Send us your news and tip-offs to editorial@australianageingagenda.com.au 
Subscribe to Australian Ageing Agenda magazine and sign up to the AAA newsletter