The number of sanctions issued to aged care providers more than doubled last financial year compared to the previous year, according to the Government's annual aged care report.
The 2017-18 Report on the Operation of the Aged Care Act, which is produced each year in accordance with legislation, provides an overview of Australia's aged care system.
In 2017-18, the Department of Health issued 26 sanction notices to 21 aged care providers due to failure to meet quality standards, up from 11 sanctions issued in the 2016-17 financial year, according to the report.
At 30 June 2018, 13 of the 26 sanctions remained in place, the report said.
There were also 166 non-compliance notices issued to providers in 2017-18, 153 for failing to meet quality standards, 11 for prudential matters and 2 relating to the Aged Care Funding Instrument, the report said.
There were only 71 non-compliance notices issued the previous year.
The main reason behind the non-compliance notices for both years was a provider's inability to meet the standards related to health and personal care.
The report also shows an increase in assault notifications, up from 2,853 in 2016-17 to 4,013 in 2017-18.
Of 3,773 assaults required to be reported under the Aged Care Act, 3,266 were for alleged or suspected use of unreasonable force and 513 for unlawful sexual contact.
The report also found an increase in unexplained absences of residents up from 1,108 in 2016-17 to 1,450 in 2017-18.
The number of consumers in aged care has also increased from 178,713 in 2016-17 to 180,923 this year.
The report highlights that demand for services increases with age. Over 40 per cent of people aged 95-99 are accessing residential aged care services compared to around 1 per cent of people aged 65-69.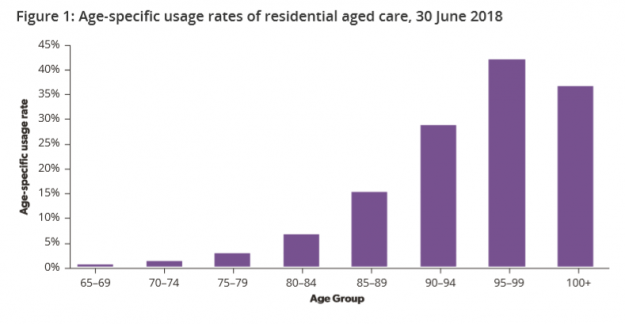 Funding aged care
The report shows an increase of almost 6 per cent in total funding the Government spent on aged care in 2017-18 ($18.1 billion) compared to the previous year ($17.1 billion).
The majority went to residential aged care ($12.2 billion) followed by basic home support services ($2.8 billion), home care packages ($2 billion), flexible aged care ($0.6 billion) and other aged care services ($0.4 billion).
Fast facts
51 per cent of permanent residents in aged care have dementia
there are 886 approved providers of residential aged care
there are 873 approved providers of home care packages
there are 100 approved flexible care providers
167 applications to provide aged care services were approved
over 1.3 billion consumers accessed some form of aged care
67 per cent of consumers accessed basic support at home
Access the full report here.
Comment below to have your say on this story
Subscribe to Australian Ageing Agenda magazine and sign up to the AAA newsletter