The Federal Budget reveals the starting price of the residential aged care subsidy under the new funding model but omits any intention to fund a pay rise for workers.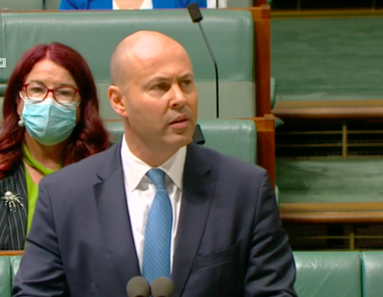 Handed down by Treasurer Josh Frydenberg on Tuesday evening for "a stronger future", the 2022–23 Budget includes $468 million to continue the aged care reforms, bringing the government's total five-pillar response package to the royal commission to $18.8 billion.
The measures include a further $20.1 million to support the transition from the Aged Care Funding Instrument to the new Australian National Aged Care Classification (AN-ACC) funding model in October this year.
The budget shows the AN-ACC funding model starting price is $216.80 – a key piece of information the sector has been lobbying for to plan for the next financial year.
"The AN-ACC funding model starting price of $216.80 is the cost of a standard day of care, with appropriate care requirements, such as dementia-related care, receiving additional funding," according to papers accompanying the budget. "At this starting price, average resident AN-ACC funding is expected to be approximately $225 per day."
This is about $22-$23 more than the current average subsidy under ACFI of around $202 including the $10 boost to the basic daily fee added last July. It will need to pay for the 200 minutes of care on average announced in last year's budget that providers will soon be required to deliver.
This funding for the AN-ACC transition adds to $53.3 million provided in 2021–22.
Lion's share goes to improving medication outcomes
The highest funded measure in this aged care budget is $345.7 million over four years announced last week to provide on-site pharmacists and community pharmacy services in all aged care facilities from January next year to improve medication management.
There's also $22.1 million over three years from 2022-23 to trial multidisciplinary outreach services for aged care residents in collaboration with states and territories.
The budget provides an additional $18.3 million over two years from this financial year to extend the assessor surge workforce arrangements to undertake 1,443 residential aged care quality audits in 2022–23.
Little in budget for workforce
The budget does little to improve the situation for aged care workers and nothing to boost their pay. An urgent need agreed by provider, union, and consumer groups alike who have been calling for a government commitment ahead of the Fair Work Commission decision expected later this year.
It does, however, include $48.5 million over two years as part of the JobTrainer Aged Care Boost to provide an additional 15,000 low fee and free training places from 1 January 2023. This measure hopes to attract new entry-level workers and help upskill existing members of the workforce.
There's $32.8 million over four years from 2022-23 to provide additional clinical placements for care and support students – to attract 5,250 more nurses – and to expand the Rural Health Multidisciplinary Training program to five new aged care demonstration sites.
This second measure aims to create strong links and collaborations with rural and remote aged care facilities and communities, including greater opportunities for Aboriginal and Torres Strait Islander students to pursue a career in aged care.
The budget also includes $6.9 million for a staged rollout of the national Co-operative and Mutual Enterprises (CME) Support Program across the aged, mental health, disability and veterans' care sector.
This measure aims to:
develop sustainable and coordinated approaches in growing a skilled workforce
support the start-up of six-seven CMEs to deliver care services in areas of need
deliver up to six additional projects to help grow existing CMEs.
Other aged care reform measures include:
$5.4 million for consultation and development of the new Support at Home program
$10.8 million in 2022-23 for the Cross-Agency Taskforce on Regulatory Alignment to implement the next stage of regulatory reforms across the aged, disability and veterans' care sectors
$6.1 million in 2022-23 to extend the aged care system regional stewardship outreach model for a further six months to 31 December 2022 to ensure local providers, seniors and workers can raise issues and needs during policy development.
COVID response measures continued
This budget also shows $458.1 million over five years from this financial year for the management of the ongoing impacts of the COVID-19 pandemic on the sector. Of this, $210 million is earmarked for this year and some costs are partially met by existing resources.
The largest portion of this funding is for the bonus of up to $800 for workers delivering home care and residential direct care, food or cleaning services announced in February this year. According to the budget, this measure is worth $215.3 million over two years from 2021-22 even though the second payment was meant to be paid in May this year.
From 2022-23 there is:
$124.9 million to extend and expand funding to support providers to prevent and manage COVID-19 outbreaks and to mop up after the east coast floods
$50.4 million over four years to provide 4,000 training places for aged care registered nurses to become authorised nurse immunisers to boost the capacity of the workforce to deliver vaccination services to residents and staff
$37.6 million for two years to support more aged care nurses to access infection prevention and control leadership training
$22.1 million to extend in-reach screening for COVID-19 in aged care homes using PCR technology to 30 September 2022
$7.9 million to extend and expand the commissioned home visits initiative for COVID-19 positive residents to 30 September 2022.
Comment on the story below. Follow Australian Ageing Agenda on Facebook, Twitter and LinkedIn, sign up to our twice-weekly newsletter and subscribe to AAA magazine for the complete aged care picture.