Smart beds could revolutionise care in Australian aged care homes, and may eventually form part of a web of monitoring devices that will provide constant updates on residents and send alerts the second they need help.
The Smart Inclining Bed, currently in testing, will be undergoing clinical trials in aged care homes within weeks, with hopes of an eventual rollout in both aged care facilities and homes around the country.
It's the pilot product of startup Get To Sleep Easy, which has a vision to make healthcare products more widely available outside hospitals.
The Smart Inclining Bed aims to tackle preventable conditions and incidents that can prove fatal to elderly residents such as falls and pressure sores – all for a few hundred dollars.
It sits on top of a bed, doesn't require a frame and uses a combination of motors and air inflation to lift up the resident.
"Sensors underneath the bed can connect movement, heart rate and breath rates and that hasn't been done for anything less than thousands of dollars each, which is too much for even hospitals," says medical researcher Nikhil Autar, who designed the beds.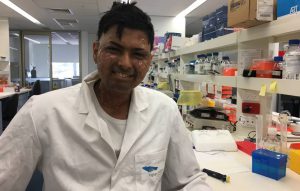 If someone is at risk of a pressure sore, if they've fallen or if they're stopped breathing, the bed will alert care workers via an accompanying app.
Mr Autar, a student at the University of NSW, draws on his own medical experiences. Diagnosed with leukaemia at 17, he spent years in treatment during which time he suffered falls and pressure sores that took months to heel – and also lost friends to falls.
"Hospital beds reduce the rate of falls by 30 per cent because they help people sit up and get up," says Mr Autar. "Our beds do this – and much more."
The incline also helps people with pneumonia, because they are able to sit up and open up their lungs.
The Smart Inclining Bed's accompanying app, Centred Around You, can send information to whoever subscribes to the user's updates, which can include family and friends as well as carers, and offers the elderly person peace of mind that they are connected.
The app also offers information on local meet-ups, organisations and services, and promotes wellbeing through tips on strengthening, diet and sleep.
"It's going to make sure people are well, emotionally as well as physically," says Mr Autar.
The app will be available in a few months on smartphones, but those without a device will be provided with a unit attached to the bed that is able to send alerts in place of a phone.
A few years from now, Mr Autar hopes to connect the Smart Inclining Bed to a web of other devices and sensors that will monitor variables such as blood pressure, heart rate, blood glucose levels, and even changes in voice.
"In the future we hope to be able to detect strokes while they are happening to get the patient help within minutes," says Mr Autar.
"We want to create devices that give an accurate description of how someone is going. This is what motivates me because I know we can make a huge impact."
Comment below to have your say on this story
Subscribe to Australian Ageing Agenda magazine and sign up to the AAA newsletter