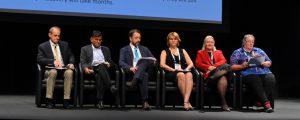 Aged care providers need appropriate evacuation plans, flexibility with staff and understanding of what insurance policies cover as part of dealing with catastrophic emergencies, an industry conference has heard.
Australian Capital Territory Emergency Services Agency territory emergency management officer Rob Kilpatrick said aged care providers need to be prepared to help themselves during catastrophic emergencies.
"The one thing I will say to providers is don't always rely on the emergency services being able to attend when resources are stretched. We run out of resources really quickly," Mr Kilpatrick told delegates at the Leading Age Services Australia Tri-State Conference in Albury on Tuesday.
The severity of this year's bushfires further diminished resources, said Mr Kilpatrick who took part in a panel discussion on preparing for emergencies.
"The season started really early, a lot earlier than we expected and so we didn't have the firefighting capabilities to help manage those fires because the resources were still being used internationally at the end of their bushfire season," he said.
"We were on our knees in regard to having resources and the supplies required to manage," Mr Kilpatrick said.
He advised providers to consider the number of nearby service providers also needing access to the same resources such as transport and general consumables.
"You have to be prepared in your business continuity planning that those resources might not be available to you," he said.
Supporting staff is key
Anne Brewer, manager of regional nursing service Buchan Bush Nursing Centre, told delegates about the impact the bushfires had on her community.
Ms Brewer was among many in Victoria's east Gippsland area who were evacuated in the final week of December. She also helped more than 15 seniors in her community evacuate as part of her role at Buchan Bush Nursing.
While it is important to assist seniors and residents during emergency events, it is also important to provide support to staff as they are likely facing the same issues, Ms Brewer said.
"Ours is all about flexible working arrangements. The rosters go right out the window," Ms Brewer told the conference.
It is also important to make sure that staff know there are counselling options available and how to access them.
Liz Roberts, CEO of Buckland Aged Care in the Blue Mountains in New South Wales, said her staff were encouraged to be where they needed to be during emergency situations.
"My first thing I say to people is if you don't feel you can be here, please don't be. If you need to be with your family, you need to be with your home, then that's where your first responsibility has to be," Ms Roberts told the conference.
"The payback that we get from people when we acknowledge that they need to be cared for as well, will pay back to you tenfold in circumstances down the track," she said.
Providers need to ensure staff can access the help and support they require, she said.
"I don't know how we can expect our staff to care for people if we as managers don't care for them."
Know your policy
Delegates also heard from Vikki Karatovic, health and community services manager at corporate insurance broker Lockton Companies Australia, about the importance of knowing what an insurance policy covers.
A common issue found when assessing bushfire-related insurance claims is that many policies exclude pollutants, she said.
"The typical definition of fire doesn't include smoke or soot, so if you're evacuating the facility because of smoke and the damage isn't actually to the facility or to insured property as defined by your policy, you'll have no cover," Ms Karatovic told the conference.
It is also important to understand what you are covered for in the case of being unable to get in or out of your property.
"If access to your property is via a road or bridge, you need to have your policy endorsed to cover that," she said.
Bushfires also need to be within a certain distance of your property for it to be covered, Ms Karatovic said.
She advised providers to speak with their insurance brokers to ensure they fully understand their policy.
"Knowing how to write those policies and having a broker who is experienced to write those endorsements onto your policy is crucial," Ms Karatovic said.
The LASA Tri-State Conference took place on 24 – 25 February at the Albury Entertainment Centre.
Comment below to have your say on this story
Subscribe to Australian Ageing Agenda magazine and sign up to the AAA newsletter