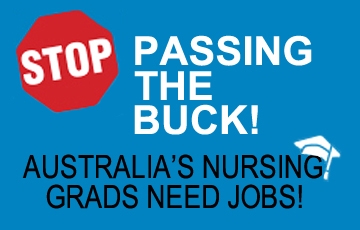 The Australian Nursing Federation (ANF) has launched a new campaign to pressure Australia's politicians to back a range of funding strategies that will ensure graduate nurses get jobs and patients get care.
The campaign, Stop passing the buck, Australia's nursing grads need jobs, will target state and federal governments to take action to curb the chronic shortage of positions for graduate nurses, and encourage potential graduates to pursue nursing careers.
"With a predicted shortage of nurses as high as 109,000 nurses by 2025, the non-employment of graduate nurses by state governments is staggering," ANF federal secretary, Lee Thomas, said.
"Almost every state is affected, with Queensland employing only 10 per cent of graduates, while in Victoria more than 800 graduate nurses will be without employment.
"That's why the new campaign is focused on applying pressure to state and federal politicians to fund a range of strategies to ensure employment of graduate nurses and the ongoing promotion of safe patient care."
Ms Thomas said that in recent months, highly trained nurses have been sacked; the recruitment of nursing graduates had stopped, hospital beds closed and vital mental health services and public and preventative health programs abandoned – in order to achieve so-called government "savings".
"Billions of dollars have been slashed from public health systems across Australia and it is nurses and midwives and the people they care for, each and every day, who are suffering as a result of it.
"The ANF believes these cost-cutting exercises are nothing but a direct attack on nursing, midwifery and care staff and their daily working conditions across the public health system."
The ANF is now "extremely concerned that these slash and burn budget-cuts will dramatically impact the amount of safe, quality, patient care nurses and midwives can deliver".
"Cost-cutting measures achieved through the loss of nursing jobs and the closure of hospital beds will only lead to excessive and dangerous workloads for nursing and midwifery staff which leads to compromised patient care.
"In addition, there will be longer overall patient stays in emergency departments and a blow-out in elective surgery waiting times throughout the public hospital system.
"At a time when Australia faces a chronic shortage of nurses, the country cannot possibly lose so many qualified nursing staff, without a decline in the overall standard of public healthcare."
The campaign calls for the waiving of HECS fees for graduates who accept employment in areas of need; funding by state and federal governments of 24-hour, seven day a week clinical supervision and mentoring; the rotation of graduates through non-traditional graduate areas such as primary care and aged care in addition to acute settings; and joint state and federal funding for graduate positions.
The ANF also wants Health Workforce Australia to immediately conduct research into where graduates end up working if they do not actually take up a position in the nursing field.
Ms Thomas believes that state and federal politicians now have a unique opportunity to agree to its campaign requests and invest in new graduates, maintain public health funding and "stop passing the buck".