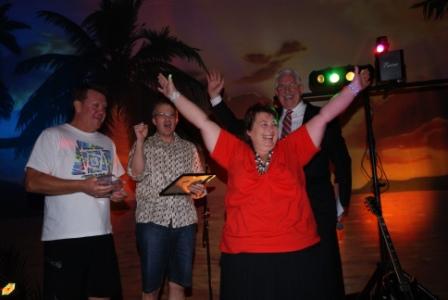 Pictured: Adrienne Dingwall from Southern Cross Care (Qld) celebrates her Employee Award for Excellence
Awards season is with us as state based peak associations reward and celebrate the successes of their membership.
First to Queensland with belated congratulations to the grinning winners from Aged Care Queensland's 2011 Excellence in Care Awards, announced at the ACQ State Conference dinner on Thursday 24th March 2011.
The awards – now in their 13th year – were a highlight of the 'millionaire beach party-themed' evening with 400 people in attendance.
The 2011 winners were:
Employee Award for Excellence: Adrienne Dingwall from Southern Cross Care (Qld) Inc
Volunteer Award for Excellence : Denis Preuss from RSL Care
Trainee Award for Excellence: Donna Smalley – Benevolent Aged Care
Organisation Award for Excellence: Regis, Corinya
Industry Supporter Award for Excellence: Provider Assist
Irene Butler from Benevolent Aged Care and Debe Wyatt from RSL Care both received a 'Highly Commended' certificate under the Employee category with Denis and Marilyn Wicham from Wesley Mission Brisbane receiving a Highly Commended certificate for the Volunteer Category.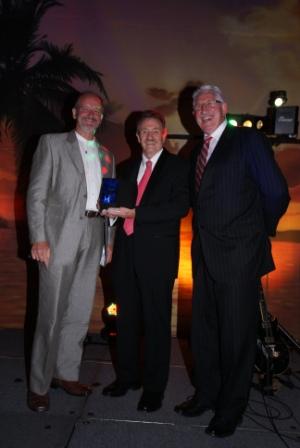 Above: Sundale CEO, Glenn Bunney receives his special award from ACQ President, Ross Smith and MC, Max Walker
CEO of Sundale Garden Village and former Chairman of Aged and Community Services Australia, Glenn Bunney, received a special award in recognition for his extensive services to aged care.
The Aged Care Queensland Excellence in Care Awards promote and recognise excellence in a range of areas that contribute to the quality of life of older people, people with disabilities and/or their carers. The Awards also acknowledge efforts to increase public confidence and community involvement in aged and community services.
State winners from the Employee, Volunteer and Trainee categories will progress to the ACSA National Awards in their relevant category.
ACQ thanks HESTA Super Fund and McCullough Robertson Lawyers for their continued support of these Awards.
Coming up soon in WA – the ACSWA Excellence in Care Awards 2011
Nominations are officially open for the third annual Aged and Community Services of Western Australia's (ACSWA) Excellence in Care Awards.
The awards, launched last week, recognise not-for-profit aged care providers and individual staff members caring for seniors and people with disabilities in the WA community.
ACSWA CEO, Stephen Kobelke, says the awards celebrate the excellence and enormous contribution that people working in the aged and community care sector deliver every day of the year, throughout the state.
"There are so many passionate and selfless people delivering the highest quality of service within the aged care sector and these awards provide us with the opportunity to identify some of them and publically acknowledge the contribution they are making to our community," he says.
"The awards celebrate and honour practitioners, providers and industry supporters spanning the aged care, community care and retirement living not-for-profit sectors, all of whom are making a real difference to the lives of older people and those with disabilities in WA."
Nomination forms and the criteria for the 2011 awards are available on the ACSWA website at www.acswa.org.au. Nominations close Wednesday, April 13, 2011.
Award recipients will be named during the ACSWA 2011 Excellence in Care Awards gala presentation, which will take place in June at the Burswood Entertainment Complex.
Overarching sponsor of the state awards, Health Super, will be joined by a number of other sponsors in six award categories: employee and organisation awards sponsored by Health Super, volunteer award sponsored by Braemar Presbyterian Care, the trainee award sponsored by AMA WA, the Aged Care Excellence Award sponsored by Uniting Church Homes and industry supporter sponsored by Silver Chain.
Award recipients will automatically be come nominees for the Aged and Community Services Australia (ACSA) national award, to be judged later in the year. This year, the prize pool has increased to $30,000.