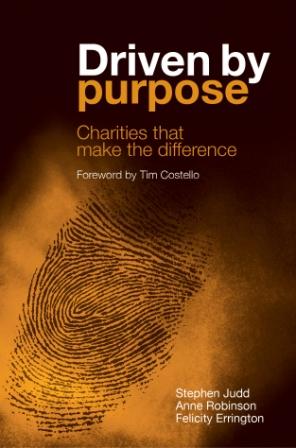 By Keryn Curtis
What makes a charity different to other types of businesses and organisations is the question at the heart of a new book by Chief Executive of the HammondCare Group, Dr Stephen Judd and co-authors, Anne Robinson and Felicity Errington.
Driven by Purpose: Charities that make the difference, explores what the authors say is a crisis of identity.
From its opening premise, that 'charities are in crisis', it argues that charities – at least a great many charities – have lost their way and need to find it again or millions of Australia's most vulnerable people may be put at risk. The crisis, the authors argue, is not one of professionalism or financial security; rather it is one of identity.
"From our research over the last five or so years, we've seen that a great many charities have lost sight of who they are and why they do what they do," says co-author, Dr Stephen Judd.
"Most charities start small and with a very clear purpose, but the problem is that over time, many charities get confused about who they are and why they are there. Are they historical entities? Are they commercial outfits in disguise?"
He says the reason that it is important is because knowing your identity and purpose shapes what you do, how you do it and also what you don't do.
"This issue of identity and purpose is not an abstract concept. It affects your strategy, your board, who is on your board, your leadership, your recruitment, the degree of risk you take… In every decision, in everything the organisation does, it must be asking itself, is this helping us to achieve our purpose and if not, why not and should we be doing it," Dr Judd said. .
"The book provides many examples of charitable organisations that have faced defining moments in understanding their purpose. As a purpose driven organisation, you sometimes have to turn down offers that might be quite lucrative because they are inconsistent with the purpose of the organisation," he says. "But there have been some encouraging examples of organisations that have lost their way and then found it again."
Referencing the debate in the aged care sector around a single peak industry association for both private and charitable aged care providers, Dr Judd says it is a problem if you believe that there is no difference between what a large charitable organisations such as HammondCare does and what a large private aged care provider does.
"I think it will challenge health and aged care providers to look at their purposes and examine what they do. It will cause discomfort for some," he said.
While the book wrestles with some challenging philosophical questions in the first 130 pages, the second 200 page section of Driven by Purpose is more of a how-to guide to running a vibrant, successful and 'purposeful' charitable organisation.
"It is designed to be a handbook," says Dr Judd. "Not necessarily a book where you go from page one to 300 in a consecutive way.
"If you accept our premise that your number one issue is identity and purpose, then part two is all about the what and the how; so you can dip in and see what is says about strategy or recruiting or financial management.
"And there has never been a more important time, with the legislative challenges and the establishment of the ACNC (Australian Charities and Not-for-profits Commission) for charities to revive, regenerate, renovate and reengineer their organisations," he said.
Driven by Purpose: Charities that make the difference (2012; ISBN: 978-0-9871892-3-3; RRP $32.95) is published by Hammond Press.
Many of these issues will also be explored at the 6th Australiasian Better Boards Conference 2012 which is taking place in Melbourne from 27-29 July.