There will be 79 new facilities resulting from the aged care places this month with more than a quarter of the new services attached to three for-profit providers, an analysis of the results shows.
The government announced the winners of the 2018–19 Aged Care Approvals Round on Tuesday 5 March allocating more than a third of the 13,500 places to non-metropolitan facilities (read more here).
About 65 per cent of the places were allocated for the development of new facilities and around 35 per cent were allocated to expand existing residential aged care services.
Overall there will be 79 new homes nationally as a result of this ACAR, including two deferred allocations in WA awaiting approved provider status, The Ideal Consultancy commercial director Fiona Somerville told Australian Ageing Agenda.
The Ideal Consultancy's analysis shows that more than a quarter of those new facilities (21) will be built by for-profit providers Signature Care, Opal Aged Care and Arcare, which were the only organisations to receive more than 500 places this round.
Signature Care received 1,390 new licenses, which was by far the highest number allocated to a single provider and just over 10 per cent of all places allocated.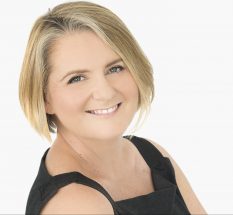 "Signature Care dominates the ACAR each round, last round achieving six new facilities and this year nine."
"Signature Care chooses sites based on future demand for residential aged care and will often build where others do not," Ms Somerville said.
The government introduced a six-category priority system for this ACAR to attract investment in rural, regional and remote areas with category 1 receiving the highest priority.
The top three categories correspond to rural, regional and remote places and categories 4 to 6 to metropolitan places, making category 4 the highest priority for metropolitan places, Ms Somerville said.
"Signature Care allocations were predominantly category 1 and category 4. Around 75 per cent were in regional areas and a further 21 per cent in Category 4 areas," she said.
Looking at the other bigger winners, Opal received 964 places and allocations for four facilities in WA and one each in NSW and Queensland, both of which are a category 4 area, Ms Somerville said.
"A small number of places were allocated for upgrade, expansion or redevelopment. This is a significant improvement on the last ACAR where Opal obtained places at just two facilities," she said.
Arcare, which received 668 places, improved on last round's allocation one new facility to be successful in obtaining allocations for four facilities in regional NSW and two in regional Victoria, Ms Somerville said.
"Of their allocations, 87 per cent were in regional areas, which presents a change to their current metropolitan focus," she said.
RRR applications most successful
This ACAR received 571 applications asking for 37,802 places with 264 homes allocated places, equating to a less than one in two chance of success nationally, said Ms Somerville.
However, you get a more nuanced result when you look at the success rate within the applications for each priority categories, she said.
"The ranking system resulted in intense competition in metropolitan areas and a significantly lower chance of success in obtaining places. Not surprisingly the higher the category the greater chance of success."
The most successful applications were for the rural, regional and remote category 1 places in Tasmania and category 2 places in Queensland, which had 100 per cent success, according to Ideal's analysis.
The toughest competition was for metropolitan category 6 place in Victoria, where only 10 per cent of applications were successful, they found.
The success rate per application by state and category according to Ideal's analysis is shown in this table: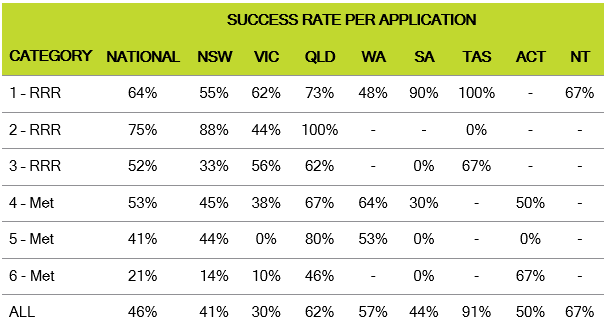 Ms Somerville said their analysis showed that any provider with current or recent sanctions did not appear in the list of successful applicants.
"A recent notice of serious risk and a current or recent non-compliance, however did not necessarily impede an allocation," she said.
Read more
Government releases ACAR results
Comment below to have your say on this story
Subscribe to Australian Ageing Agenda magazine and sign up to the AAA newsletter