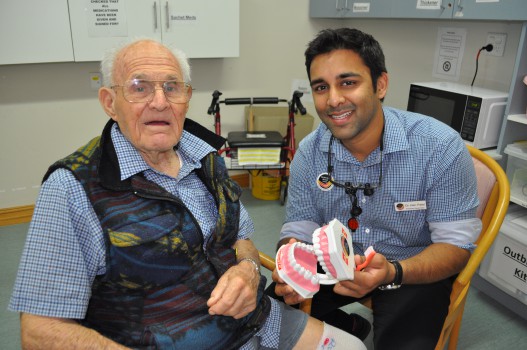 A group of volunteer dental and allied health professionals are currently investigating how providing dental care to aged care residents can improve overall quality of life in a new trial described as a first for Western Australia.
The aged care provider involved in the trial said the initiative could have a significant impact on the residential aged care sector across Australia.
MercyCare's Wembley residential aged care facility is partnering with the Kimberley Dental Team (KDT) in the trial that aims to bridge the notorious gap in the provision of dental care to aged care residents.
KDT is a not-for-profit organisation of volunteer dental and allied health professionals who provide dental treatment and education to people disadvantaged by barriers such as remoteness and cost.
As part of the trial, which is currently underway, the KDT volunteers will initially identify a group of 20 MercyCare residents for dental assessment.
They will then bring mobile dental services to the facility and visit the residents in their rooms, structuring a tailored management and preventive oral health plan for each resident as required.
The provision of oral healthcare to aged care residents has been a long-standing sector issue, highlighted by various Australian studies and reports.
Oral diseases commonly affect frail and dependent seniors and are often exacerbated following admission to residential aged care. These diseases can significantly impact on elderly people's eating ability, diet, weight, speech, hydration, behaviour, appearance and social interactions.
KDT senior dental officer and director Dr Jilen Patel said that through a patient-centred model of care, which focused on prevention and education, and by using flexible methods of service delivery, the trial hoped to provide much-needed services. In so doing, it aimed to improve the quality of life of aged care residents, he said.
MercyCare executive director of aged care services Carlo Calogero said the trial was an exciting development and a big step forward in improving aged care practice.
"The KDT approached us late in 2014 because they had identified a real deficit in providing dental care in residential aged care for elderly people throughout Australia," he said.
"For older people who are frail or have low mobility, getting to regular dental appointments can be difficult, and likewise it can be hard to arrange for dentists to visit aged care facilities. As a result, dental care can deteriorate."
MercyCare CEO Chris Hall said the initiative could have a significant impact on residential aged care sector across Australia. "We will be supporting and watching the trial with interest."
The provider was taking part in the trial because dental healthcare can fall by the wayside for elderly people for a number of reasons, Mr Hall said. "The benefits of a regular treatment and care plan could have wide-reaching impacts on the general wellbeing of our residents."