New South Wales aged care services performed the worst and below the national average on achieving all expected outcomes across each of the eight quality standards, a new report shows.
Aged care services in the ACT were not far behind performing below average on achieving all expected outcomes of seven of the standards, according to the Productivity Commission's annual Report on Government Services.
Contrastingly, aged care facilities in Victoria, Queensland, Western Australia and Tasmania performed better than average on achieving all expected outcomes across all eight standards while all facilities reviewed in the Northern Territory achieved all expected outcomes for five standards.
The report released last week shows the results of 497 reviews of residential aged care services' against the Aged Care Quality Standards in 2019-20 (see table below).
There were more than 217,000 operational places at June 2020 with the number of quality reviews undertaken corresponding to number of places in each state.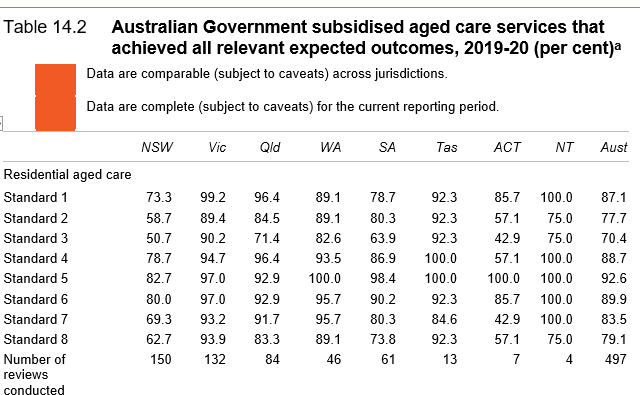 NSW had the lowest proportion of aged care services to achieve all expected outcomes on the first standard, consumer dignity and choice (73 per cent) while the NT had the most (100 per cent).
For standard two, ongoing assessment and planning with consumers, and standard three, personal and clinical care, ACT facilities were least likely to meet all expected outcomes (57 per cent and 43 per cent respectively) and Tasmanian homes were most likely to do so (92 per cent for each).
The ACT again performed the worst on meeting the expected outcomes of standard four, services and supports for daily living (57 per cent), however had all facilities in the territory along with all in WA, Tasmania and the NT meet all requirements for standard 5, organisation's service environment.
NSW facilities fared the worst on standard six, feedback and complaints (80 per cent), while all facilities in the NT again performed the best (100 per cent).
For standard seven, human resources, less than half of facilities achieved all expected outcomes (43 per cent) while all the NT homes did.
ACT facilities were again least likely to meet all expected outcomes for standard 8, organisational governance (57 per cent) while their counterparts in Victoria were most likely to (94 per cent).
Fast facts
6,335 – the number of complaints received for residential care services in 2019-20
$21.5 billion – the government's total expenditure on aged care services in 2019-20
$13.6 billion – the government's expenditure on residential aged care services in 2019-20
42 per cent – the proportion of older people who entered residential aged care services within three months of their ACAT approval in 2019-20
148 days – the median elapsed time older people entered residential aged care after their ACAT approval, down from 152 days in 2018-19.
Access the full report here.
Comment on the story below. Follow Australian Ageing Agenda on Facebook, Twitter and LinkedIn, sign up to our twice-weekly newsletter and subscribe to AAA magazine for the complete aged care picture.