Providers have shouldered increased costs for personal protective equipment, cleaning, and COVID-19 coordination during the pandemic, a survey by a provider peak body shows.
Leading Age Services Australia this week released the results of its national Aged Care COVID-19 Survey, which was conducted at the end of April. It surveyed 74 residential aged care providers who provide care and accommodation for more than 12,000 residents.
The results, which were presented in a webinar on Tuesday afternoon, showed 74 per cent of providers said increased PPE costs influenced their financial performance a great deal or a lot. This was followed by increased cleaning costs (63 per cent) and COVID-19 coordination (54 per cent).
LASA senior policy advisor Troy Speirs said the increased costs are impacting the financial performance of aged care providers.
"There has been an increase in expenses relative to their usual operating costs and that's an unplanned and unbudgeted response that this sector has been contending with," Mr Speirs said during the webinar.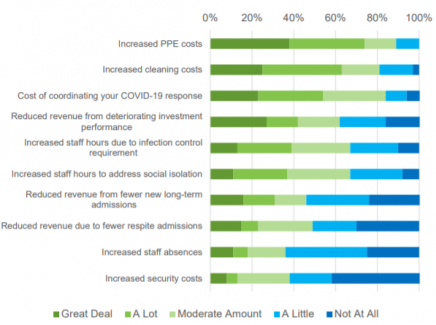 Other factors influencing the financial performance of aged care providers include reduced revenue from a deteriorating investment performance, increased staff hours due to infection control requirements and increased staff hours to address social isolation.
Mr Speirs said there needs to be continuing vigilance around infection control in the upcoming financial year of 2020-2021.
"While we note that the government has provided some interim COVID funding relief… which was released after this survey was completed, there will potentially be ongoing COVID funding pressures," he said.
The survey also found that 62 per cent of residential aged care providers were dissatisfied with the level of support from the government, however many of these responses were made before the government had announced its $205 million COVID-19 subsidy for residential aged care.
Workforce practices
Mr Speirs said the survey showed the dedication of aged care providers to protect their staff and residents from infection.
"[There is a] strong commitment to staff infection control training with regard to hygiene, the use of personal protective equipment and if necessary, operational changes to keep their residents safe," Mr Speirs said.
It found 97 per cent of providers were screening staff for COVID-19 risk factors and 42 per cent made rostering changes to reduce transmission risk.
The survey also found that 60 per cent of aged care providers experienced increased workforce pressures due to COVID-19, with 30 per cent of providers reported an increase in staff leave days during the pandemic.
Almost half of providers reported staff morale remained unchanged, however 31 per cent reported staff morale was worse or much worse.
Operational changes
The survey found that 48 aged care providers (61 per cent) implemented restriction of all visits by family and friends except for palliative care and compassionate circumstances, followed by 22 providers (28 per cent) who have placed limits to visits by family and friends as per the state directive for residential care.
Phone calls (97 per cent), video calls (95 per cent) and visits through windows or other barriers (86 per cent) are among the alternate visitation arrangements providers have established for families due to the visitor restrictions, the survey showed.
Families or friends (531), facility employees (261) and residents (54) also completed a survey, which made up 864 combined responses on stakeholder experience of their provider's response to COVID-19.
More than half (64 per cent) of employees, residents, families, and friends said they strongly agree with their facilities response to COVID-19, including the implementation of visitation restrictions and just over a quarter (26 per cent) agreed with the facility's response.

LASA CEO Sean Rooney said the survey highlights the aged care sector's commitment to providing high quality care to residents.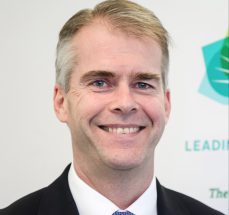 "The impact on the workforce and finances has been considerable but the dedication to the safety of older Australians continues unabated," Mr Rooney said.
Mr Rooney said the sector has delivered exceptional care while under great pressure.
"Despite the additional costs during COVID-19, the majority of residential and home care providers said they have not deferred their planned investment to keep on improving and expanding their services for older Australians," Mr Rooney said.
"Whether this continues to be the case remains to be seen, with many providers already under extreme financial pressure, well before the pandemic struck," he said.
Access the survey for residential providers here.
Read what home care providers told LASA about the impact of COVID on their organisations here.
Comment on the story below. Follow Australian Ageing Agenda on Facebook, Twitter and LinkedIn, sign up to our twice-weekly newsletter and subscribe to AAA magazine for the complete aged care picture.