As part of our efforts to deliver more of the high-quality feature and opinion content from our magazine in a digital format, Australian Ageing Agenda is sharing some of our favourite long form print journalism with our online audience. We hope you enjoy this feature from our July – August 2013 edition.
Helping Hand employee assisting a CDC client 
"There is a fundamental cultural shift between the old style and CDC. It's as important to understand why the shift is necessary as what the shift is."
Ready or not, consumer directed care, or CDC, is here. Following the passage of the aged care bills through parliament at the end of June, the latest round of home care packages will be delivered on a 100 per cent CDC basis starting today, 1 August.
In two years it will be the only home care option aged services providers can offer. And providers with experience from the early pilots say CDC means big changes to the way services are delivered.
Package design must have an emphasis on wellness and re-ablement, maintenance of independence and support for consumer decision-making, according to the Home Care Packages Program guidelines.
Systems, therefore, have to be updated to handle individual budgets; culture must change to enable consumer decision-making, and attitudes need to shift to support consumer choice. Are you prepared?
Great expectations
First of all, CDC is not person-centred care, says Jane Mussared, General Manager, Innovation and Development at ACH Group, an early adopter of CDC. In addition to transparency about funding, which is a key feature of CDC but not necessarily of person-centred care, the main difference is about control, Mussared explains.
"In CDC, the power sits with the consumer to decide. The value to them as a service is our input, expertise and experience to assist them to understand what the possibilities are," Mussared says.
While some people in their eighties might incorrectly think rehabilitation, restoration and reablement is for younger people, aged service providers have the skills and the evidence to know there are many opportunities to compensate for a disability through exercise, diet, housing, and social interests, she says.
"The great advantage of CDC is that we can provide that advice. Whether they take up that advice is in their court. It is very much their decision." CDC means the service provider is not nearly so bossy, Mussared says. "Their role is much more advisory."
Being the decision-maker may not be easy for all consumers, says Ian Yates, chief executive of seniors advocacy organisation COTA Australia. Some consumers will take to CDC "like a duck to water", while those used to a dependency model might find it more difficult, he says.
"They will have to think about what they want and that could be a struggle. Some will look for support. Other people will have to overcome a fear of 'if I stick up for my rights will I really get what I want.'
"Providers need to be very aware of those different concepts and send the right signals and mean it. It is a very significant cultural shift," Yates says.
Rather than consumers having all the power, he describes CDC as a partnership where consumers expect providers to explore the ways they design and manage the support together.
"Treat each other as partners. In the real sense, it's a genuine partnership. Not consumers taking total control. Packages are still going to providers. It is about how you equalise that power," Yates says.
Similarly, Ian Hardy, chief executive of South Australian home care provider Helping Hand, which was also an early adopter of CDC, agrees with Yates about a need for providers and consumers to work together with mutual trust and respect.
"It is a complex relationship between the members of staff who go into a person's home and the person they are supporting. One of the critical success factors is respect in both directions," he says.
"We need to acknowledge the right to express choice and the right to make a mistake. It is something we need to get used to."
The word in the workplace
Many aged care workers who understand the needs of consumer empowerment can't wait for CDC, Hardy says. "It is an exciting thing to help people make choices for themselves." However, the journey is not without its challenges, he adds.
For care workers, and especially registered nurses who have a strong feeling of needing to protect the client to ensure the best health outcome, it is a whole new way of thinking and working, he says.
"Letting go of that is going to be a big challenge for everyone in the field. But as people, we make choices every day and they are not always good choices. If that option is extended into our older years, clients will sometimes make choices that are not good for them.
"The challenge is at all levels but we need to acknowledge the right to express choice and the right to make a mistake. It's something we need to get used to," Hardy says.
This highlights a conundrum of CDC where a consumer's decision might conflict with the requirement of providers to emphasise wellness, re-ablement and independence.
Eliza Pross is Director of Strategy with Community Care Northern Beaches (CCNB), an organisation that provides 22 independent ageing and disability programs across northern Sydney using the enablement approach.
Enablement is focused on working with an individual to identify the things most important to them, and supporting them to maximise their independence at home, Pross says. "Choosing enablement over more passive care options is not necessarily a choice older people will make without the right information and support from service providers."
CCNB's services involve coordination, resourcing and flexible brokerage. A model very much compatible with CDC, Pross says.
"An enablement approach starts with understanding what a 'great day' or a 'great life' might look like for the consumer. From there, we aim to understand what strengths and attributes a person has to realise their potential, and specifically, what challenges they have in achieving their goals on a day-to-day basis," she says.
Having an individual's needs assessed by the right people and developing solutions with input from the consumer are important next steps, Pross says.
There is an inherent contradiction on the surface between the philosophy of choice and control and enablement, which means providers must also take on the role of educator, she says.
For example, to give an older person the basic choice between having their cleaning done, or undertaking an exercise program to be able to do it themselves is not a sensible one, she says. "Focusing on healthy living and options that can maximise wellbeing will have a flow on effect to basic tasks of daily living."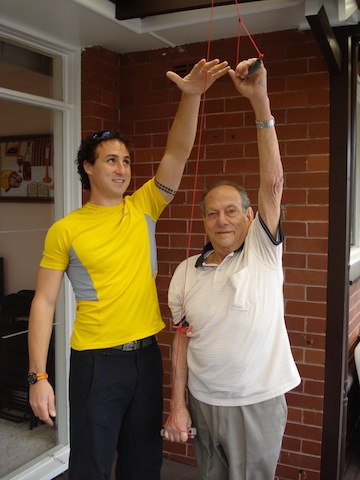 Mr Mussry, Community Care Northern Beaches enablement consumer, and Alexander Roach, Conducive Exercise Physician
"It is not all about we will give you more choices. It is about how we can work together to design the best package of support for you."  
Organisational leadership
An enablement approach, like CDC, is more sophisticated than a traditional service delivery model and requires training, managerial leadership and consideration from boards about how to support staff to think outside the square, Pross says.
"Care workers need much more expertise, systems and motivational language. Changing the service culture, language and philosophy of care is key."
Four years since transitioning to an enablement approach CCNB is just starting to see change. "We have started to shift the underpinning philosophy of care on every level, from service design, assessment, provision and management. People have started to know the difference. Workers have started challenging each other about whether they are realising enablement potential with their clients," Pross says.
While there is the chance of conflict between CDC and enablement, if it is done well within a culture where independence and choice is advocated, it has great potential to improve older peoples' lives, Pross says. "Ninety per cent of getting it right is a cultural shift."
And so all agree organisational-wide cultural change is the crux for CDC success.
To better understand this process of organisational change, Helping Hand has been developing case studies involving consumers and advocates talking to staff about their experience of the pilots.
Ian Hardy's advice for implementing CDC is to identify "an internal champion, mentor, or 'go to person' who really understands the vision for consumer choice and empowerment and can help their colleagues adjust to a new way of thinking."
Similarly Jane Mussared says unless agencies achieve the cultural shift, it is very difficult to do the rest. She suggests helping staff understand about where control with the customer and broker sits and what that means.
"There is a fundamental cultural shift between the old style and CDC. It's as important to understand why the shift is necessary as what the shift is. Unless they embrace and understand and support 'the why', it's almost impossible to pick up 'the what'," Mussared says.
Financial transparency is the other important element to get right from the start, she says, because it will open up the way for valuable conversations about what packages can and can't include.
"If you do that immediately you will get people who will ask questions." And while those questions will likely be difficult ones, service providers shouldn't be frightened of the conversation, she says. "I think we'll be delighted along the way with the probing and questions."
Mussared likened the situation to the provider and the consumer learning and walking the CDC road together. Ian Yates agrees with this and says the most important thing for providers to get right from day one is to see the consumer as a partner.
"It is not all about we will give you more choices. It is about how we can work together to design the best package of support for you."