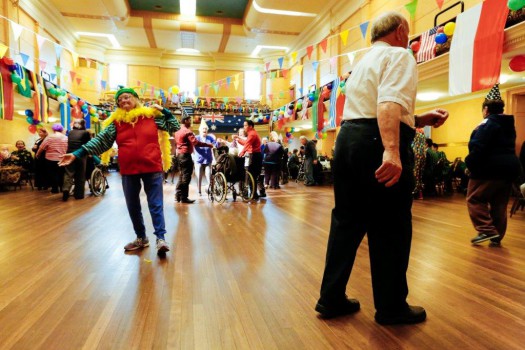 PROFILE: For almost a decade, facility manager Paul Brophy has been staging musical events that bring together 20 aged care facilities across Melbourne.
For Paul Brophy, his work begins with building connections – with his residents, other aged care organisations and the community.
For more than 15 years Brophy has been the manager of the Brotherhood of St Laurence's Sambell Lodge, a 43-bed aged care hostel for the disadvantaged. Many of his residents have experienced homelessness, mental illness and alcohol abuse.
"Many of them have guardians in place, many of them are resentful of coming into care. I think that's the challenge – not only for us at Sambell, but everybody involved in residential care – getting future residents to come to terms with the idea of moving into a facility," he says.
For Brophy, the best way to tackle that challenge is to innovate and go beyond the job description. Most importantly, find out residents' stories and their hopes for the future. He says:
"People come into aged care homes in the latter stages of their lives and we've missed out on so much of the good stuff; so much of their journey. These people who have lived challenging lives, we have to instill a sense of trust and belief in them and inspire them."
Brophy is passionate about creating opportunities for his residents, many of whom are without families of their own, to participate in the community and he says it's incumbent on all facility managers to be aware of possibilities to do so.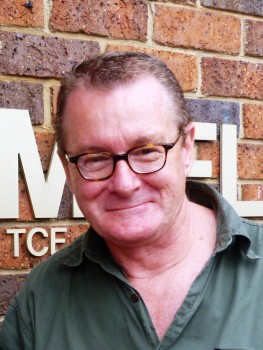 To this aim, in 2006 Brophy approached seven other aged care facilities and the City of Yarra with plans to put on a social sporting event for residents that coincided with the Commonwealth Games.
Having never organised anything like it before, Brophy – in the midst of an accreditation year – says he was occasionally stressed about what could go wrong. However, the event was heralded as a resounding success, with 300 residents, family and volunteers packing the Collingwood Town Hall. It demonstrated to Brophy the power of taking calculated risks in the industry.
"It was amazing," says Brophy. "We had an elderly Italian man… he was playing bocce and he was crying, because he hadn't had the opportunity to do it with others in a game and he was showing off his expertise."
Since then, Brophy has staged two events every year and there are now 20 aged care facilities that participate, with residents of many different cultural backgrounds.
Each event, known as Celebration of Life, has a different theme but is underscored by music, song and dance. The broader community is involved; local high school and nursing students come to dance with residents and a band of retired musicians play.
For Brophy, the best thing about the events is seeing the joy residents get out of it and learning more of their stories. In the future, he's enthusiastic to replicate the events in regional areas.
Many residents spend months planning their outfits and learning songs in the lead up. The most recent event, held in September, was circus-themed. "We had a children's circus, we had an older woman's circus, and we had some professional circus performers from CircusOZ. It was fantastic," he says.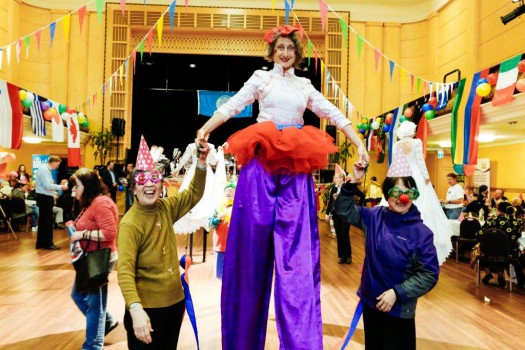 Brophy says part of the reason these events are successful is that they are supported by staff working at the grassroots. He takes delight in seeing them enjoy the day along with residents. The events have also helped to bolster cross-organisational networks – something that Brophy says is wonderful to see. "We need to work together more and share our information for the betterment of all."
In the same vein of community participation, Brophy has also started taking his residents out on Sunday evenings to volunteer at a food van in the inner city. It inspires him to see people, many of whom have once been homeless themselves, giving back.
"Yes, it's about the bread rolls, the soup and the fruit – but most importantly it's about social inclusion; the social contact that they can get when they go down," he says.
Recently, he's also been taking a colour chart round to each resident and asking them what colour they would like to paint the wall outside their room. There's also a slab of brickwork where he's asked each resident to paint a brick each however they wish. Brophy says it's helping to make residents feel more connected and at home in the facility.
"It's starting to look pretty crazy with our tapestry of colour, but you've got to try these things. It's just a coat of white paint if I stuff up. We've got to prepared to have a go and the risk. I want to empower the residents," he says.
"It's all about connections, community, family and daring to make a difference in what you do."
Want to have your say on this story? Comment below. Send us your news and tip-offs to editorial@australianageingagenda.com.au 
Subscribe to Australian Ageing Agenda magazine (includes Technology Review)