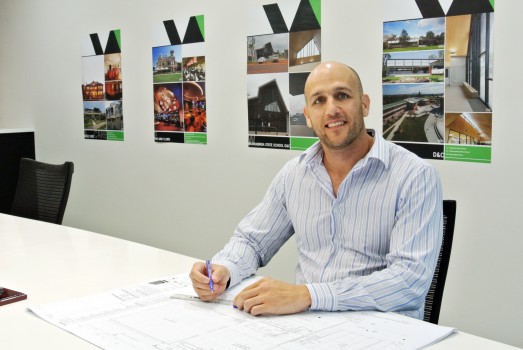 PROFILE: Much of Danny Hammon's role as an aged care development manager is talking to aged care providers to understand what they want from their buildings.
Danny Hammon says the most important thing to consider when developing residential aged care is the people you're building for.
"The main thing is the personal touch; you're essentially building someone's home," he says.
"It's a place where someone's going to be living – someone who might not be extremely healthy, or fortunate enough to stay at home any longer. You really have to look at the personal part of it," he says.
Hammon has worked in the construction industry for over 10 years and in March last year, put his hand up to become Woollam Constructions' first specialised aged care development manager.
Having worked on some aged care projects previously, Hammon went for the role as he found he enjoyed working alongside providers who were passionate about providing care for seniors.
Further, he found it rewarding to know his work had a positive impact on people's lives, especially people living with dementia. "I found there was a really good purpose; instead of going and building an office block or just an industrial type building, there was more to it," he says.
As a development manager, much of Hammon's role is client relation – talking to aged care providers to understand what they want to get from their build or refurbishment. He helps his clients to get development approvals, assists with the design and engages architects.
When planning for a build, Hammon encourages an ongoing, collaborative approach between his team, their clients, architects and consultants. When working together from the initial stages, all can offer their expertise and have input, which allows for a broader range of suggestions and assists with risk management and budgeting, he says.
"Everyone has their piece to play at the table," he says. "The architect is there designing and we have the client's brief. But we're constantly challenging that design… to make sure that it's efficient, that it's not just a cut and paste, standard thing to do."
Internally, Hammon is helping his team to analyse and review aged care designs they have worked on in order to benchmark efficiency and incorporation of trends. The goal is to provide a database for providers with better information about design and construction, and improve running costs.
"A big thing we look at is the efficiencies within the building, and how far staff have to walk from point A to B, and try to really narrow that down to make the facility run as efficiently as possible," says Hammon.
Woollam has also engaged with an external aged care advisory board, made up of people who have worked in various roles within the sector, to gain industry insight into what providers want.
A common trend Hammon has noticed is a focus on complete care centres, as well as lifestyle, with some providers choosing to co-locate with sporting amenities, such as bowling or golf courses. "It encourages the residents to not just sit in their bedrooms, it gives them reason to get up and go and be active," he says.
When it comes to refurbishments and updating facilities, Hammon encourages providers to tailor towards a feeling of home. "First and foremost you need to create that homelike feel. Then work around that to incorporate that clinical side of things."

Building for aged care takes thought and consideration, something Hammon says is heightened when doing refurbishment work. Essentially, it involves going into people's homes to do demolitions – something that can be quite distressing to residents, he says.
To assist, Hammon employs a variety of techniques. For example, if there are a series of timber hoardings up, he might suggest putting viewing windows within them so residents can look into the construction site.
"There might be some elderly gentlemen who live in the facility who used to work in the construction industry, so they'll be quite happy to move a chair in front of one of the viewing platforms and just look through," he says.
Into the future, Hammon predicts there will be challenges in terms of site constraints – especially in areas of demand – and he foresees more high-rise development.
However, more broadly, he says the biggest issue facing providers will be keeping on top of shifting consumer demand.
"It's really important to ensure that in what you're designing now there's flexibility to be able to easily change or make refurbishments as time goes on, in order to accommodate what the consumer is after."
Want to have your say on this story? Comment below. Send us your news and tip-offs to editorial@australianageingagenda.com.au 
Subscribe to Australian Ageing Agenda magazine (includes Technology Review)