We hope you enjoy this feature from our July – August 2013 edition.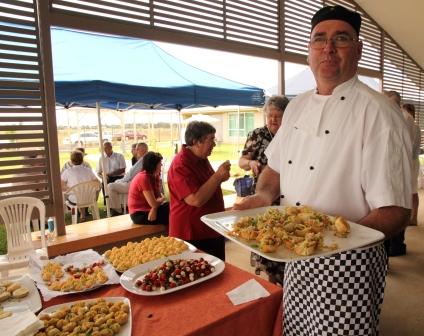 Jemalong Residential Village, Forbes
"It's gone back to traditional home style cooking in the last four or five years, and that's what older people want."
If residential aged care facilities aren't taking what is on the menu seriously, they probably should. Because these days any old nosh definitely will not do. And that sentiment is only going to get stronger as baby boomers begin to enter care.
Natalie Day, dietitian and catering services manager with New South Wales residential aged care provider Catholic Healthcare, says food is one of the most important components to consider for residents' health and happiness.
"Because of their age, the focus on food is big. When they enter, they have their medication and they have their food. Food is one of the biggest things we need to satisfy them with," Day says.
In addition to being the dietitian looking after the organisation's 40-odd facilities, Day is also a chef who designs the menus and writes the recipes for all of the provider's chefs to use. "I'm a big flavour person. I make sure that everything tastes right," she says.
Diana FitzGerald, general manager of training at Leading Age Services Australia Victoria, agrees on the importance of a variety of nutritious and tasty food in residential care, the demand for which she says will only become stronger.
"As we head down the road in aged care to being increasingly customer focused, baby boomers will be putting much more emphasis on food choices. How organisations provide those services is likely to become as important as care services," FitzGerald says.
Baby boomers want to experience good food and have all their food needs taken care of in aged care, she says. And to address the trend toward increased choice, variety and member demand, LASA Victoria recently ran its second 'In the kitchen in aged care' seminar involving a discussion and collaboration on food and nutrition.
A change for the better
However, this interest in food hasn't always been so strong, says Anthony Lahood, managing director of Lahood and Son, which specialises in supplying fresh meat and produce to kitchens in Sydney and surrounding regions including five-star hotels, big clubs and aged care facilities.
"We have been involved in aged care for over twenty years. We went through the cycle where there were quite a few facilities that weren't producing the quality of food that residents would have expected. So when regulation came in and the facilities were audited for quality of food and how it's serviced, we saw a revolution," he says.
The result is a more professional food service in residential aged care, Lahood says, and one that is more likely to involve people who have come from a restaurant background.
Anthony Lahood
"Fifteen years ago, facilities would buy frankfurts, devon and cheap foods. These days that is not accepted. It is just not tolerated. People are buying more premium quality mince. They buy quality diced beef. The amount of fat is considered. It's important nowadays that it's lean," Lahood says.
"There is a variety of proteins, greens, and starches. There is more of a focus on quality and variety." Doubling up on meals doesn't happen nowadays and set menus are a thing of the past, he says. Instead, meals are planned four weeks ahead and menus change three or four times a year.
"It has gone back to traditional home style cooking in the last four or five years, and that's what older people want," Lahood says.
Shopping lists are different these days as a result, he says.  At the top end of town, they might include fillet steak and blueberries. But overall, kitchens are buying a broad range of fresh produce and there is much more interest in Asian vegetables such as bok choy these days. "People are becoming more aware of different products they can use and thinking outside the box."
If you are looking for the next big thing being used in professional kitchens, it is black garlic, Lahood says. The fermented ripe garlic tastes great, without the garlic breath, he explains.
To maximise value Lahood says it is important to get accurate advice from your supplier about the current state of the market, which is affected by the quality of the season. "My key message is know what is out there and how it all works to get the best quality for the best price."
Control in the kitchen
When it comes to the model of preparation, Lahood says the current trend is to prepare and cook meals in house. "It's what the residents want," he says.
This is something Catholic Healthcare has found, says Natalie Day, who has been in the dietitian role at Catholic Healthcare for about five years. The provider started the journey back to a 'cook fresh' model two years ago. Day believes you have a lot more control over the meal quality, the taste, and the texture when you do it in house.
Catholic Healthcare's model follows a standardisation process and it is working well, she says. It revolves around standardised menus and recipes, which Day develops and tests.
"Everything doesn't swing with budget. We don't just go with cheapest provider or food. It's about quality, variety, choice and texture."
Day describes the food as a "traditional based menu with a few injections of fancy food". The menus are seasonal and follow a four-week cycle. Ingredients, such as vegetables, can be tweaked as necessary. There is a choice of main meal offered everyday for lunch, which might involve a meat or vegetarian meal or sandwich option, she says.
She says they find it cheaper to do it in house but that doesn't mean it is all about the most inexpensive option. "Everything doesn't swing with budget. We don't just go with the cheapest provider or food. It is about quality, variety, choice and texture."
The wording used in menus is important too, Days says. "When I first started, I would use words like risotto, but they didn't like that. The way you say it is important. So I might say rice with a creamy mushroom sauce instead of risotto."
While choice and variety is paramount, Day still has to stay within a budget. "We have a supplier so I know how much it costs. I have an excel spreadsheet and I know how much each recipe costs. If it goes over budget, I will have to review the recipe," she says.
Meeting new expectations
While the current cohort might fuss about descriptions on the menu, it's unlikely to remain a problem with future consumers increasingly accustomed to a wider experience of styles of food and greater expectations about choice and variety, Day says.
"At the point we are now, it is still the older group and they want more traditional food.  But it is going to be huge when the baby boomers hit," Day says, adding that it is something the organisation is actively thinking about and preparing for.
It is a view echoed by Diana FitzGerald, who says the trend is definitely heading toward more creative food. "Within five years baby boomers will be 70 and [some] will be receiving care so it is something that is here now but will become increasingly prevalent," she says.
Diana FitzGerald
This change was the driver behind LASA Victoria's very successful kitchen seminars and workshops on menu planning and improving food intake. FitzGerald says demand was strong because previously there has been very little training content aimed at people working in kitchens or making food-related decisions.
The recent kitchen seminar drew about 160 members from a cross-section of roles including food catering and lifestyle staff, facility managers, directors of nursing and others involved in making food decisions to collaborate with experts in food services and management, she says.
One of the sessions involved a discussion looking at how residents are currently involved in menu planning and processes to engage them.
Key outcomes of that talk were the importance of providing high-quality, delicious and nutritious options and person-centred menu planning that involves the residents, FitzGerald says.
In another part of the seminar, Joe Ciccarone, CEO of a food manufacturing facility called Community Chef, talked about how he balanced safety, variety, choice and cost in his organisation.
On the old 'in house or contractor' question, FitzGerald says there is still a mix and while the trend has been toward in house kitchens, some providers prefer to use a contractor. Her experience has shown it is quite common for organisations to fluctuate between a contractor and an in house model to meet their different needs at the time, she says.
Heart and soul food
FitzGerald says the food preparation demonstrations and tastings, led by a TV chef, Janelle Bloom, were a real highlight of the kitchen seminar day. "She is on [the television program] Ready, Steady, Cook, and she did a session on nourishing the heart and soul of elderly people."
Bloom talked about varying the menu and making things a bit more exciting than usual; and she shared some quick-to-make and cost-effective meal ideas, says FitzGerald.
Bloom's dishes were a big hit with participants.  They included things like fruit smoothies using some of the newer frozen products on the market, a simple pasta dish made with three different coloured peppers and homemade sausage.
FitzGerald says there was advice throughout the day on how to balance creativity, quality and cost. Echoing the advice of Anthony Lahood, she said it was all about looking for ingredients that are in season then thinking about different ways of putting them together.
Creative menus and innovative food service doesn't have to involve an expensive price tag, she says, but it does require thinking outside the box. "There needs to be some innovation up front then someone to drive it."
Helping with meals in the community 
Home delivered meals have the single biggest impact on whether someone is able to remain independent at home, according to a recent US study.
The Brown University study confirmed what many have long believed to be the case, finding that the home delivered meal service was the only significant factor, among a range of government support programs, influencing state differences in the number of older Americans being able to remain at home.
After analysing state spending for programs between 2000 and 2009 and public health and nursing home data from over 16,000 nursing homes, researchers found a link between increased spending on home-delivered meals and proportionally fewer low care nursing home residents.
"Often in the past people would have to go into care if they couldn't swallow. Now many Meals on Wheels services are meeting those requirements."
CEO of Meals on Wheels South Australia, Sharyn Broer, said the study has shown that investment in delivered meals services made a measurable difference in people living independently at home even when other service types existed.
"It's a very cost effective service for governments to be supporting," Mrs Broer says. Rather than being a surprise, the results reinforce what they have also been finding, she says.
The two-fold benefit of nutrition and social contact that delivered meals services such as Meals on Wheels (MoW) provide, she says, directly assists older Australians to maintain their health and remain at home.
That assistance is far-reaching too as MoW delivers more than 14 million meals a year to about 60,000 people in Australia, servicing all states and territories with a strong regional and rural presence.
Sharyn Broer
Trending at Meals on Wheels
Like the residential aged care food revolution, there is an increasing amount of choice in foods for people receiving meal services in the community, Mrs Broer says, including options to meet taste, cultural, dietary and medical requirements.
"The food Meals on Wheels offers has adapted to Australian palates over the nearly 60 years it's been operating in Australia. A number of meal recipes in our services reflect the diversity of our culture," Mrs Broer says.
On the cultural side, she says there is an increasing number of outlets offering kosher and halal meals, especially in the eastern states, as well as more Mediterranean and Asian dishes.
MoW has long offered diabetic friendly choices, Ms Boer says, but an emerging trend from a dietary perspective is that most services are now catering for gluten free and low GI environments and meals that contain low levels of potassium and lactose.
Similarly, many services are concentrating on assisting people with swallowing difficulties by offering more texture-modified meals, she says. "Often in the past, people would have to go into care if they couldn't swallow. Now many Meals on Wheels services are meeting those requirements."
When it comes to the most popular meals, Mrs Broer, says it's really whatever appeals to the individual but anecdotally speaking, she says many people seem to choose meals which are comforting as they get older.
"We've found in Adelaide that often when we offer a main choice people really prefer bangers and mash. And the good old roast on a winter's day is still popular."
And to finish off the meal, panna cotta and bread and butter pudding are chart toppers too, she says.