In a new book, former minister for ageing Mark Butler challenges common misconceptions on the ageing population – from how treasury reports on the economic 'burden' to the role of media and entertainment. He speaks to AAA about changing minds, lobbying government and the need for leadership.
During his three years as minister for ageing Mark Butler heard from all manner of lobby group, peak body, professional association, academic and expert. But he says it was the conversations with seniors during more than 70 community forums held as part of implementing reforms to aged care that provided some of the most valuable insights.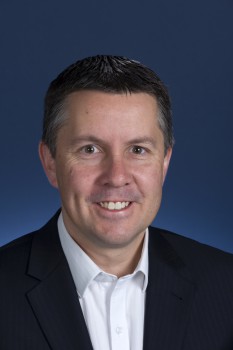 In these sessions older people spoke frankly of their hopes and fears, their experiences of ageing, their concerns around losing control over the circumstances of their death, and their shock at how our ageist society treats them.
In his new book Advanced Australia: The Politics of Ageing, Butler recalls being struck by the prevailing sense of foreboding among seniors about their future.
He describes Australia's ageing population as a triumph, the result of remarkable advances in medicine and public health, and contrasts this with the prevailing public commentary of the "doomsday" scenario the ageing cohort presents to the budget bottom line.
"We talk about positive ageing, but really the attitude to ageing that we have in our culture, in our media, in politics and the broader community is, frankly, pretty appalling," Butler tells Australian Ageing Agenda.
Reframing the political, economic debate
Clearly Butler is hoping to help nudge along a change in attitudes, saying the book aims to reframe the political and community conversation on two levels – first, "the personal", such as how we all think about and treat older people, whether they're financially secure, feel valued and are connected to the community.
Second, he says the book aims to reframe the economic debate. Here Butler makes a compelling case for economists and treasury officials to re-think how they quantify and measure the economics of ageing.
He dispels the notion that the growing cohort of seniors is a threat to the taxpayer and argues that Australia is, in fact, well positioned to manage the budgetary impact of its ageing population. He takes issue with some of the measures used, such as the age-dependency ratio in the Intergenerational Reports, and also notes that economic analyses typically fail to take into account the contributions seniors make after they retire, through volunteering and caring, for example.
Asked why governments still rely on such seemingly faulty measures, Butler says some are used simply because they are easy, and admits that the economics of ageing is a "really, really difficult area to analyse".
"People don't conform to these stereotypes whereby they work hard and pay their taxes until their 65th birthday and after that are what Joe Hockey would call leaners; it's actually much more nuanced than that," he says.
Given he is not an economist and has no formal economics training, Butler says he often doubted himself as he studied the various economic reports when writing the book and it gradually became clear to him that "so many of the assumptions about the economic and budgetary impact of ageing … were just completely wrong."
He argues that his analysis "completely puts the line through the doomsday analysis that the budget is broken because people are living longer."
Cut through: influencing government
As someone with experience of being a minister overseeing significant reform, as Butler was in both ageing and mental health, he says that "the role of stakeholder groups is utterly critical."
In the book he praises the seniors lobby groups Council on the Ageing, National Seniors and Alzheimer's Australia for their persistence and effectiveness in canvassing government support for their issues.
"Every MP has a very long list of issues that they're being lobbied about on any given day, both in their community and in Parliament House. The challenge for stakeholder groups is how they can get their issue up the top of the list," he says.
In the book and in conversation, Butler recalls the importance of the many stakeholders in the sector agreeing on the fundamentals in order for government and the parliament to progress reforms.
"Aged care reform is really hard work for a parliament and it's such a sensitive area dealing with very vulnerable people, often with sensitive areas like the family home," he says.
One of the key reasons why previous attempts for reform failed, such as those initiated by John Howard in 1997, was that the sector "spoke with too many voices" and ultimately the Living Longer Living Better measures succeeded due to the collaborative work stakeholders undertook within the National Aged Care Alliance. "I think if Howard had gotten that, he may well have got through aged care reform 15 years earlier," he says.
As to the future, Butler believes the federal parliament will have to come back to aged care reform "reasonably regularly", given ongoing issues such as the increase in demand and the workforce challenges. Ultimately, aged care reform "will not be a once every 20 year piece of work like it was over the last few decades," he says.
An extended version of this interview appears in the current issue of AAA magazine (September-October 2015).
Want to have your say on this story? Comment below. Send us your news and tip-offs to editorial@australianageingagenda.com.au 
Subscribe to Australian Ageing Agenda magazine (includes Technology Review)