Since last year the states have been working towards adopting a national code covering the conduct of health workers, including aged care's personal care workers. AAA reports on the progress of the code, and what it means for providers, staff and consumers.
Personal care workers provide almost 70 per cent of the care in residential aged care facilities, major workforce surveys show, yet this growing workforce is not covered by national professional standards and there is no professional body handling misconduct.
This has been a source of debate in the sector for decades, and frequently becomes a hot topic during major reviews of the aged care workforce.
Some groups have called for mandatory registration of care workers, in the same way that nurses are registered. Australia's health ministers decided against registration, and last year agreed to introduce a national code of conduct for unregistered health care workers to be operational by 2017.
For the first time, health care workers, including aged care's 250,000 direct care workers, will be held accountable against a set of nationally agreed standards of conduct. Serious breaches of the code can result in a person having conditions placed on their practice or being banned from practising altogether.
Here's what you need to know about the new scheme.
What's the code and who does it cover?
The national code of conduct for health care workers sets out minimum standards of practice for health workers who are not currently registered under the national registration and accreditation scheme.
The statutory code of conduct will apply to anyone who provides a health service including personal care workers, assistants in nursing, speech pathologists, dietitians, allied health assistants, audiologists, social workers and massage therapists.
The code stipulates that a health care worker must provide services in a safe and ethical manner, report concerns about the conduct of other health care workers, not misinform clients, and not financially exploit clients. Read the code in full on the COAG Health Council website.
It is unlikely that someone working in an aged care facility in a purely education role will fall within the scope of the scheme.
Where the line should be drawn between health and social care was a key area of discussion throughout public consultation on the code and a number of stakeholders said they supported including all disability and aged care workers within the scope of the code, whether or not they are providing services that are clearly health-related.
States and territories contacted by Australian Ageing Agenda said they were currently working through the process of defining who would be covered by the scheme.
How will the new scheme work?
Health complaints bodies in each state and territory will be responsible for enforcing the code and will be given powers to investigate an unregistered health worker's conduct and practice in response to a complaint against an individual.
The code will set national standards against which disciplinary action can be taken, and if necessary, a prohibition order or interim prohibition order issued.
A prohibition order can place limitations or conditions on a person's practice or prohibit them from providing health services altogether if there is a serious risk to public health and safety. Breaches of a prohibition order can result in a fine or imprisonment.
It's intended that a prohibition order issued in one state or territory will apply in every other state or territory, and Australia's health ministers have agreed to establish an online national register of prohibition orders, which can be searched by employers and the general public.
In aged care, there is likely to be some intersection between the Aged Care Commissioner and the code, said health and aged care lawyer Sabine Phillips from Gadens.
For example, as part of an investigation of a complaint against a facility, a report may also be made to a state health complaints body against an individual health worker if their conduct has failed to meet the standards of the code.
What does the code mean for personal care workers?
Phillips said the scheme introduces a set of enforceable standards and therefore accountability for a worker's actions.
"There will be accountability rather than just an expectation [about a person's conduct], so that people that are providing care and services to our vulnerable elderly are accountable for how they act," she told AAA.
Phillips said while many of the code's requirements are already part of industry practice (such as training on privacy and infection control precautions), the challenge will be ensuring that all aged care workers are aware of, and understand the code.
For example, workers will need to understand that if they have an infectious disease they must take steps to ensure that clients are not put at risk, or if they're taking prescribed medication that they obtain advice about the impact of the medication on their ability to practise.
Personal care workers will also be required to refer a colleague that is believed to be placing clients at serious risk of harm to a state health complaints entity.
What does the scheme mean for providers?
Although Australia's health ministers have agreed to develop national explanatory materials to assist in informing staff about the scheme, it's likely that aged care providers, as employers, will have a role in training and educating their staff about their obligations under the code.
During public consultation it was raised that occupational groups without a professional association may find it more difficult to educate their workforce, putting the onus on employers.
During recruitment, aged care employers will also need to start searching a candidate's names on the national register of prohibition orders, to check if the person is a banned worker or has had restrictions placed on their practice in any state or territory.
In South Australia, where a code has been in operation since 2013, Aged and Community Services SA and NT said that overall it has not had a huge impact.
Natasha Forward of ACS SA and NT said the state's providers have made sure their workers were informed about the code, but she wasn't aware of any reports being made under it to date.
Asked whether providers were using the code during recruitment – for instance checking if a candidate had a report against them – Ms Forward acknowledged there could be better awareness of it.
"I think when the national code comes out it will help increase the relevancy of [the code] and making sure that people are aware of it, and are making a report appropriately," she told AAA.
When does the national scheme come into force?
In April 2015, Australia's health ministers agreed to the terms for the national code and announced it would be the responsibility of each state government to legislate for it.
They committed to a timetable of having the national scheme operational in 2017.
New South Wales, South Australia and Queensland already have statutory codes of conduct or similar in place, which were used as the basis for developing the national code. These states agreed to consider adjusting their codes and arrangements to achieve national consistency.
Ultimately it's up to each jurisdiction to implement and progress the scheme. See AAA's map for national progress: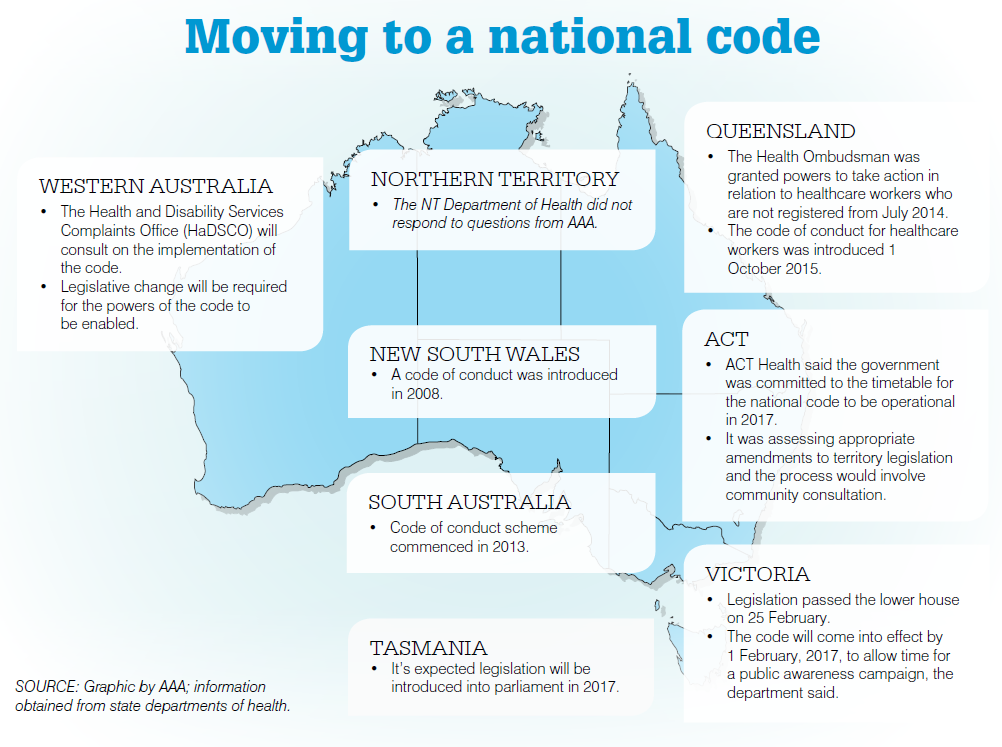 Why do we need a code?
The health ministers recognised that while there are powers to cancel the registration of a registered health professional, in most states and territories there are limited avenues to deal with the incompetent or unethical behaviour of healthcare workers who are not registered.
And where prohibition orders were made, they were not enforceable in other jurisdictions, which meant workers could simply move interstate.
The intention of the national code is to strengthen regulatory oversight of these workers, without restricting entry into these occupations and facing the significant costs of registration.
While Phillips said the scheme will provide additional protection for clients, employers will still need to have stringent employment systems in place when recruiting and selecting personal care workers.
Asked how the code could be improved, Ms Forward suggested information about the code could also be made available on My Aged Care as that was the go-to point for consumers seeking information.
She also suggested clarity would be needed on whether independent care workers, who subcontracted through third party websites, would be covered under the code.
Additional reporting by Darragh O'Keeffe.
An extended version of this special report appears in the current issue of AAA magazine (May-June edition). 
Want to have your say on this story? Comment below. Send us your news and tip-offs to editorial@australianageingagenda.com.au 
Subscribe to Australian Ageing Agenda magazine