A codesigned app has successfully brought complaints about communication with residents' family members to zero, an aged care chief executive tells Australian Ageing Agenda.
Brenna – a mobile app that streamlines communications about a resident's condition between registered nurses and multiple family members at once – was codesigned over 10 months with the team at Greenhill Aged Care – a Tulich Family Communities site in Wollongong in New South Wales.
Since rolling out to the site's two aged care homes – Greenhill Manor and Hillside – in August last year, the app is having a positive impact on complaints, says Greenhill Aged Care chief executive officer Be Nguyen.
"Since we have been utilising the Brenna app at Greenhill Aged Care, our complaints have trended downward to zero each month regarding communication to families," Ms Nguyen tells AAA.
This was one of the key measures Ms Nguyen was hoping to improve with the rollout of the app. Previously, Greenhill Manor, for example, received complaints week after week from families about poor communication – including a lack of updates on a resident's condition, care and service from the home, she says.
This was, in part, due to language barriers, which many homes experience because of the high number of skilled migrants working in the sector, Ms Nguyen says.
"I would see a recurring theme from feedback of families that they didn't understand the RN who had called them, or that the information they received was inconsistent. It was frustrating all round," she says. "Since Brenna was implemented, no further complaints have been made by families on this."
It is a pleasing result, says Brenna founder Jeannie-Marie Noyce. "We are happy to see such large reductions in complaints at these homes," Ms Noyce tells AAA.
She says Brenna has two main goals. "Firstly, to improve efficiency and workflows, making the workday easier for nurses. And secondly to provide peace of mind to families through delivering clear, succinct and timely information to all authorised family members."
Brenna allows RNs to provide all family contacts with digital updates on a resident's condition using clear language and a consistent format via a mobile app. Typically, an RN provides updates over the telephone to only the primary contact, who disseminates the message to other family members as they see fit and understand it, says Ms Noyce.
"And that's a good scenario – when the initial message got received and understood," she says. "But often even those initial phone calls from staff to primary contacts are not being properly understood or received."
Ms Noyce came up with the idea for the app because of personal experience. Her mother Robyn was a resident at Hillside for more than four years. Due to issues experienced in relation to her mother, Ms Noyce had direct access to Ms Nguyen – which she leveraged to propose developing an app to streamline updates.
Aware that better communication could resolve existing angsts, anxieties and escalation points, Ms Nguyen was receptive to the idea. "She approached me about it, and I said, 'I do agree from my history, a lot of the complaints could be resolved easily with effective communication'."
After many meetings, discussions and collaboration, the concept for Brenna was born. Concluding the program had "legs" Ms Nguyen decided to "give it a go" because she hadn't seen anything like it in the market. "And then when we started to work on it, we realised, we've got something special here. She's got something special. And that's how it all came about."
Post implementation, Ms Nguyen describes the app as a win for everybody. "RNs have more time on the floor, residents get the care they need and the family; it alleviates their anxiety because they know exactly what's going on," she says.
Family activation rates at the Greenhill Aged Care homes have been averaging 85 per cent since implementation. "We are happy about this as it shows how much family members are wanting the service," says Ms Noyce.
Codesigning a solution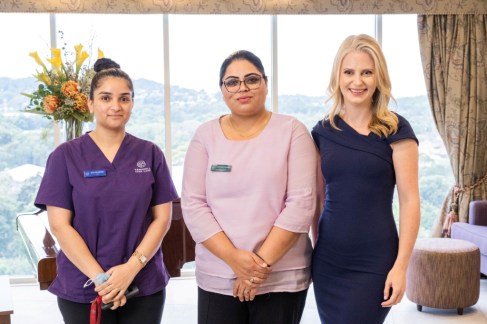 To ensure the app was fit for purpose, the codesign process involved mapping the workflow of registered nurses – such as the most common occurrences and how staff respond to them.
"We've created something that's quick and easy for the nurses to be able to enter information. Most updates they're entering into Brenna on the staff side, they can complete in less than a minute," Ms Noyce says.
To help, the app features drop-down boxes, checklists, a priority schedule, calendars to tick and select, and open text areas with prompts and questions. "That makes it easier in terms of providing guidance for what to include when it is open text," she says.
Greenhill Aged Care general manager Parveen Kaur agrees and says the app is much loved by the staff using it.
"Brenna is very easy to use and can convey a message to family members in details. It is a blessing to registered nurses where they don't have to sit behind the computer screen typing an email or on the phone to call family members to update them about their loved ones," Ms Kaur tells AAA. "Brenna has a wonderful feature which allows staff to send the message with priority," she adds.
Messages are colour-coded – green, amber or red – so recipients know whether the communication is low, medium or high priority before they even read it. Clear "headline" information indicates what the update is, the time it occurred and the prioritisation, Ms Noyce adds.
For families, the message includes a section on action taken so the care journey is explained, she says. Family contacts receive messages via a mobile app. They get a push notification on their phone and an email to let them know there is a new message.
Key benefits include:
access to multiple family members
all contacts get the exact same information at the same time
a consistent format and structure of messages
a family chat function within the app.
These features aim to calm family members' nervous systems, says Ms Noyce. "It allows them to be receiving things where certain parameters are fixed, and the only thing changing is the precise content of the message."
Recipients can easily see if it is something serious or just informational, which aims to provide family members more agency in terms of their own response, she says.
"In my own personal experience – and also in everyone that I interviewed from the family member side – people say when that phone number comes up on the phone, you just go into panic, because you don't know until you speak to the person, whether they're saying 'could you please bring in some more winter pyjamas?' or 'your father has had a fall and he's been transferred to hospital.'"
Among those family member users is Ms Nguyen, whose mum lives with dementia in one of her facilities. "The staff get quite nervous when they call me. I try to put them at ease but I'm also a registered nurse so that makes it even worse," she says.
As a family member, Ms Nguyen says the biggest thing is receiving – and missing – calls at all hours. "If it is not an emergency, they ring you when they have time, which could be nine o'clock in the night."
This raises concerns and anxiety levels that it is something serious when – like it was once – it might be about a loved one being resident of the day, says Ms Nguyen.
"So now they don't have to do that. I see the communication that comes through to the message. I'm happy with it. It's quite detailed and I can also see it in my own time," she says. Feedback from families has also been positive. Ms Nguyen says a common response has been "why didn't you do this sooner?"
Over 8,000 updates and counting
The Royce Manor in Penrith in Sydney's western suburbs is the latest Tulich Family Communities site to go-live with Brenna. It launched about two months ago.
Ms Nguyen says she is eager to analyse the complaints data pre- and post-implementation of Brenna to see what difference it is making there. "Feedback from families that I have spoken to believe that this would be of benefit to them as well."
Early indications are good, according to the organisation's chief financial officer Aidan O'Flaherty, who says the app is helping to draw praise from the home's family-member stakeholders.
"Brenna has been instrumental in reducing complaints in regards to communications. In fact, we have now moved from getting complaints about communication to receiving compliments about communication," Mr O'Flaherty tells AAA.
The app is now live at 11 homes with further implementation dates set. An additional five homes will start using it in the coming months as part of a collaborative research project funded with a grant from Aged Care Research & Industry Innovation Australia.
In addition to the ARIIA grant win, Brenna was one of five aged care applications Amazon Web Services announced earlier this year for its health and aged care accelerator program to help start-ups drive innovation and grow their businesses. Brenna was also one of four finalists for the 2022 Increasing Care and Service Productivity innovAGEING award.
Behind the scenes, Brenna has recently completed an integration with Health Metric's eCase. The app also integrates with AlayaCare and integration work is also underway with LeeCare and BESTMED and starting soon with Manad Plus, says Ms Noyce.
"More than 8,000 updates have now been sent out via Brenna. As we bring on more and more homes it is increasing quickly," she says.
Meanwhile, the person who backed the technology for its potential to ease her own workplace pain points recommends the technology to her counterparts without hesitation. The implementation was simple and the app is easy for the RNs to learn "because it takes the work out," says Ms Nguyen.
"You don't even have to think. Just answer yes, no, not applicable, click a few buttons and it generates the text message for you."
Main image: Staff and residents at Greenhill Aged Care
Comment on the story below. Follow Australian Ageing Agenda on Facebook, Twitter and LinkedIn, sign up to our twice-weekly newsletter and subscribe to AAA magazine for the complete aged care picture.