When Prime Minister Malcolm Turnbull announced Christian Porter as the new Minister for Social Services on Sunday, many could be forgiven for not knowing who the Western Australian MP was, given he was only elected to federal parliament in 2013.
However, since successfully contesting the seat of Pearce at the last election, Mr Porter has moved swiftly through the government's ranks.
In December last year he was promoted from the backbench to become Tony Abbott's parliamentary secretary, and now that Mr Turnbull has elevated him to the inner ministry, he will handle the largest spending portfolio in the cabinet.
A family calling
Yet Mr Porter's rise isn't a surprise to those familiar with his political resume – nor his family history of raising the bar.
In 1956, his father Chilla Porter held the nation at a standstill when, at just 19 years old, he nearly beat United States athletics star Charles Dumas in the high jump at the Melbourne Olympics. He won a silver medal and Dumas broke an Olympic record for the gold.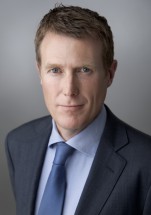 Christian Porter joked in his maiden speech to federal parliament he had not inherited his father's sporting prowess, just his 'chicken legs'. However, he has inherited his father's political bent – Chilla Porter went on to be the state director of the Liberal Party in Western Australia. Chilla's father had helped to establish the Queensland Liberal Party with instruction from Robert Menzies.
Following in these family footsteps, Mr Porter joined state politics in 2008 at age 37, where he served as both WA Attorney-General and Treasurer. During his time as State Treasurer, he was one of the main architects of the $1 billion WA Future Fund.
Prior to that Mr Porter had worked as a senior state prosecutor and a law lecturer at the University of Western Australia (UWA). He holds a Bachelor of Arts, Bachelor of Economics and a Bachelor of Laws from UWA and a Master of Science (Political Theory) from the London School of Economics.
Surprise move to federal arena
When Mr Porter announced his decision to move to federal parliament in 2012 it was regarded as a shock, given he was widely touted as Premier Colin Barnett's logical successor.
Mr Porter said of his choice at the time:
"You've got to be absolutely certain that you're living your own version of your career and not someone's expected version… I've come to a view, which I cannot shake now, that I could make a contribution to the advancement of a number of very important issues. And I've also formed the view that my greatest chance of making any kind of impact with respect to those issues is in a federal parliamentary setting."
Given his experience among the highest levels of government, political commentator and Honorary Professor at Edith Cowan University, Harry Phillips said he had expected Mr Porter to get a senior ministerial role in the cabinet reshuffle.
Professor Phillips also said that, despite having voted for Tony Abbott in the leadership spill, Mr Porter would be "in concert quite readily" with Mr Turnbull and expected him to be highly competent in the difficult portfolio, given he is an articulate and well-informed negotiator.
"He's not an ideologue without flexibility," Professor Phillips told Australian Ageing Agenda. "When he was Treasurer and Attorney-General, he seemed to always be conscious that everything had to be argued for and explained and … that sort of person has a recognition of what the political culture is.
"He always seems to know his brief – whether it be legal, or whether it be economic. He is always thinking – from broad discussions with him – how the system can be improved, but he has a sort of realism of the need to sell your policies and a realism that there are political bulwarks – you can't just have fancy ideas."
A future PM
In the past, Porter has described himself as a market liberal, a social individualist and a legal conservative. He is a known advocate for GST reform. Of his new role, Mr Porter has said that it is "almost a certainty" he will have to look at spending cuts and has already indicated he will look at welfare reform. And while his work in the portfolio is yet to properly begin – he is currently in WA with his wife Jennifer as they expect their first child – some have already made calls he will one day sit in the top job.
On Monday, Sydney Morning Herald columnist Paul Sheehan reiterated comments he made in 2013 when he called Mr Porter a potential future Prime Minister. 2GB broadcaster Alan Jones echoed the sentiment. "This bloke, believe me, is a potential Prime Minister and will be seen as such within months, not years," said Mr Jones on Monday.
Related AAA coverage: Stakeholders welcome new minister but urge reform agenda be maintained
Want to have your say on this story? Comment below. Send us your news and tip-offs to editorial@australianageingagenda.com.au 
Subscribe to Australian Ageing Agenda magazine (includes Technology Review)