Australia's first charity The Benevolent Society is celebrating its 200th birthday today, Wednesday 8 May, with words of support and good wishes pouring in from high places and the launch of a colourful new visual identity.
Founded on 8 May 1813 by Edward Smith Hall with the purpose of "relieving the distressed", The Benevolent Society has led a number of major social changes in Australia's history and according to its CEO, Anne Hollonds, has been the catalyst for many of the social benefits Australians take for granted today.
"Imagine an Australia without free legal aid, child protection laws, the old age pension or maternity care and you've just imagined Australia without The Benevolent Society," Ms Hollonds said.
She said that when the Benevolent Society was formed in 1813, the colony was a harsh place for the growing number of destitute children, single mothers, and elderly ex-convicts who were considered not deserving of help.
"Our founders were a small group of visionary people who established the first home-grown philanthropy and volunteering in Australia.
"For much of the 1800s, The Benevolent Society really was Australia's welfare system, and we've been a driving force behind some major social and medical breakthroughs in Australia.
"We're probably best known for establishing the Royal Hospital for Women in Paddington, which we ran for almost a century. The Royal had a proud record of medical breakthroughs, including the first reliable test for pregnancy in Australia, the first use of diagnostic ultrasound and the first cancer detection clinic for women.
"But in the late 1800s, we also campaigned for Australia's age pension and the abolition of child labour."
Tradition of patronage
The charity's first patron in 1818 was Governor Lachlan Macquarie – a legacy each successive NSW Governor has continued. Current patron, the Governor of NSW, Professor Marie Bashir, said the ability to survive and adapt through two centuries of cultural, political and economic change is a remarkable feat.
"Although the shape and function of The Benevolent Society has evolved, the organisation remains true to its original purpose," said Professor Bashir.
"As pioneers of social change, they are responsible for many 'firsts' in Australia including the establishment of the first maternity hospital, campaigning for the old-age pension, rethinking approaches to housing and care for older people and changing the face of social leadership education. They continue to respond to emerging social issues with innovative ideas, compassion and respect."
Australian Prime Minister, Julia Gillard, extended her warmest wishes to the organisation which, she said, for two centuries has been a voice for compassion and reform, "always accomplishing in its own deeds what it asked of others."
"Thanks to the Society," Ms Gillard said,"thousands of Australians have found comfort, dignity and the tools for empowerment and self-reliance.
"The Benevolent Society shows our nation at its best – a nation dedicated to fairness and opportunity. All Australians have cause to be proud of the Society and immensely grateful for its work," Ms Gillard said.
Leader of the Opposition, Tony Abbott, said that, as Australia's first charity, the Benevolent Society "has a special place in our nation's history and in our hearts."
"It's not what we have to do but what we choose to do which is the measure of our humanity. Tens of thousands of voluntary associations are at the heart of our social fabric and are one of our country's distinguishing features."
More to be done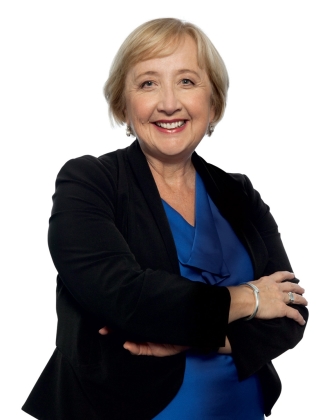 Above: CEO of The Benevolent Society, Anne Hollonds
Ms Hollonds said that while the organisation had come a long way since 1813, there is still more to be done.
"As a relatively prosperous country, we can do better. Today, The Benevolent Society helps people of all ages to change their lives – from the very young to the very old – and we aim to break the cycle of disadvantage across generations.
"Now we help people before they get to crisis point – to prevent and reduce the cost of social problem. We help struggling families to provide a better start for their kids, so they don't get left behind. We support older people living at home to have a better quality of life, and much more.
"Our story is the story of the countless Australians we've helped, and who've helped us, over the past two centuries, so we'd like as many as possible to join our celebrations online," Ms Hollonds said.
"Our 200th anniversary is an incredible milestone. Australians far and wide – and some well known international supporters – have gotten behind The Benevolent Society, including Governor Darling, who in 1826 ordered all fines for public drunkenness to be given to The Benevolent Society to support our work."
Elvis Presley, loaned the chairty his gold Cadillac for a fundraising tour during the 1960s, raising the equivalent of $1 million in today's money; while Prince Charles and Princess Diana were guests of honour at a charity fundraising ball in 1983.
"As well as celebrating this unique history, today we are also looking to the future. We invite everyone to share their vision for the next 200 years, by telling us about their hopes for change for Australia's future."
About the Benevolent Society
The Benevolent Society is a non-religious not-for profit organisation which supports people at all ages and stages of their lives including children, parents, foster carers, older people and their carers, people living with mental illness, people living with a disability and people affected by adoption.
Its range of activities includes public advocacy on social justice issues, social enterprises that generate income for the organisation's work while meeting a social or community need; and the development and use of research and evaluation to highlight what works, to help professionals improve their practice and to develop new initiatives.
In the aged services field, The Benevolent Society has been a high profile advocate for affordable housing for older people and the need to embrace age friendly urban design.
To find out more, visit www.benevolent.org.au