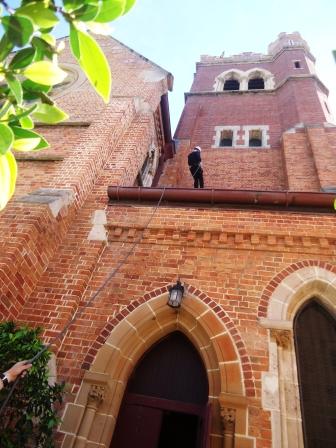 An 85-year-old priest has abseiled down a Perth cathedral tower to prove how much fun it can for a person to stay active right up until and through their later years.
Reverend Tim Harrison, an honorary assistant priest at St George's Anglican Cathedral, sailed all the way down the church tower earlier this week, in the lead-up to the Bendigo Bank Seniors Week Festival.
Rev Harrison, who was a keen abseiler as a young man, said he believes the sport is much safer today than it was 50 years ago.
According to Brayden West of Adventure Out, abseiling is one of many activities that can be done at any age, and hopes more seniors will want to give it a go after witnessing Rev Harrison's carefully managed descent on Tuesday.
The Anglican aged and community care provider, Amana Living (WA), organised the abseil which was followed by an al fresco reception and a church service.
"We aim to help people really live the second half of life," said CEO of Amana Living, Ray Glickman.
"This means being as invigorated, healthy and active as possible at every age, and focusing on what people can do, rather than what they can't do.
"Tim Harrison is a great example of this philosophy."
See Mr Harrison's abseiling journey in pictures below