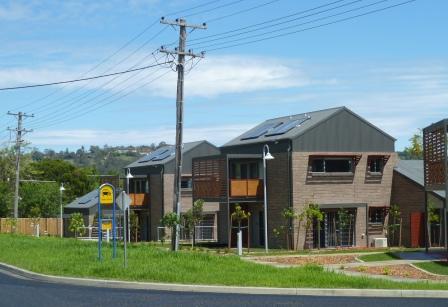 Above: Part of Baptist Community Services' brand new affordable social housing complex to be launched on October 31

By Lillian Radulova

Baptist Community Services (BCS) has completed the construction of their new affordable social housing complex for seniors in Lismore (NSW).
The 26 units were constructed with funding from the Department of Sustainability, Environment, Water, Population and Communities, Housing NSW as well as the National Affordability Rental Scheme and will be launched next Monday.
The project cost approximately $4.7 million, with the federal government contributing just under $4 million through ex-PM Kevin Rudd's stimlus package.
CEO of BCS NSW and ACT, Ross Low, stressed the significance of the launch, saying how the not-for-provit provider had been gearing towards providing social housing for a while.
"Is it an area that we are in and constantly wanting to be in? The answer is yes," Mr Low said.
"We are interested in developing these areas, to some extent, irrespective of government decisions.
"However, if the government is able to provide funds for these projects then we can provide faster and far greater opportunities for people to benefit. We are very grateful to the National Rental Affordable Scheme for provided funding to the tune of $3.8 million towards our Lismore project. This assistance enabled us to get the project up and running quickly and to the high standard achieved."
Mr Low said that BCS' was dedicated to providing affordable housing because there is growing community need which must be met. The not-for-profit provider therefore chipped in and contributed the remaining cost of the units' from its own reserves.
"Through BCS LifeCare, the community outreach arm of our business, we are aware that in certain areas people are struggling to have a roof over their heads. As rent becomes difficult and as landlords put their prices up people begin to struggle on a day-to-day basis.
"It is BCS' intention to continue to make in-roads into development of affordable housing for people bordering on being marginalized and in fear of being homeless. It is fundamental to our mission to look after people who are at risk. If more money can be made available in this area we would be very happy to continue to work with the government to further such developments."
In the absence of government money, the potential for aged care providers to fund their own social housing remains in question.
However, Mr Low said, while not-for-profit providers seem keen to provide for those older adults on low incomes, some of the for-profit groups are not as willing to put money into these projects.
"This is an area that the not-for-profit groups such as ourselves are vitally interested in, and in fact are prepared to put money into."
BCS worked alongside the builders 50 Plus to incorporate both age friendly and environmental sustainable design features in their development to ensure accessibility and reduce living costs for residents as well as environmental impact.