As the year draws rapidly to a close there are still lots of goings on all around the aged care sector, from new appointments to Queensland's award-winning continence nurses – and award-winning continence products – as well as some great examples of what goes on in nursing homes and retirement villages.
New faces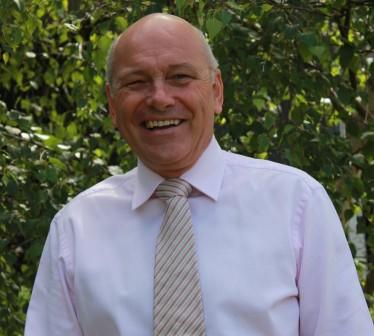 Above: Phillip Moran, new general manager of Benetas at Home.
Yesterday Benetas announced Phillip Moran as the new general manager of its community care arm, Benetas at Home, starting on 5 December. Mr Moran is a director of Western Health, which runs three public hospitals and two nursing homes in Melbourne, and was previously CEO of Merri Community Health Services, a post he held for 14 years.
The appointment is part of the Victorian not-for-profit's response to the large and growing demand for community care services, according to Benetas chief Sandra Hills, and follows a recent successful bid from Benetas at Home to provide Veterans' Home Care services throughout Victoria.
"We understand that we need to increase our energy and focus on supporting older people to be able to live well at home – this is what people want as they age," Ms Hills said in a statement. "With Philip on board we will now be able to really increase our efforts in this area."
Professor Fran McInerney will also start a new role next week, on Tuesday, as the Australian Catholic University's inaugural Mercy Health Chair of Aged Care. The newly created professorial post has received an early boost in the form of a $1 million donation from the Fred P. Archer Charitable Trust. [Look out for more on the new position, including an interview with Professor McInerney, in the next edition of AAA's e-news.]
Above: Judy Smith, the new client advocate at RDNS SA.
Also taking up a newly created role is Judy Smith, who has taken up responsibility for ensuring that the voices of all residents are heard as RDNS South Australia's first ever 'client advocate'.
The role involves making sure that clients with communication difficulties, those with mental health conditions or have more complex needs are not marginalised, and making sure all staff give clients a fair chance to engage in meaningful dialogue with their service provider.
"We want clients to be satisfied with the care they receive from both a physical and an emotional perspective. They should feel comfortable in questioning any aspect of their care and know that we welcome their feedback," Ms Smith said.
Ms Smith has previously worked for RDNS SA for a decade, as chief nurse, and has won several awards over the course of her career. She was also an adjunct lecturer at the University of South Australia for three years and is a Fellow of the Royal College of Nursing Australia.
Continence in Queensland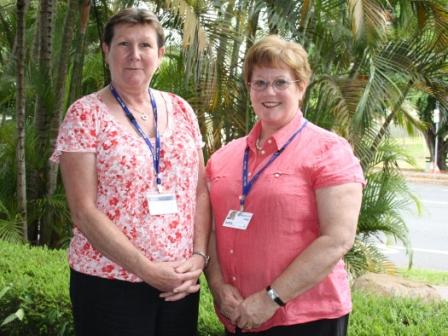 Above: Ros Male and Karen Matthews from Blue Care
Blue Care has demonstrated its prowess for continence management, with both the winner and runner-up of the recent Conni Awards coming from within the organisation.
Karen Matthews took out the top award, which included a $5,000 trip to Beijing for next year's International Continence Society Conference, for excellence in her position as a clinical nurse consultant with Blue Care's Continence Advisory Service, based in the Brisbane suburb of Mt Gravatt.
The runner-up prize in the Conni Awards – $500 towards a conference of the receiver's choice – went to Ros Male, a continence advisor also with Blue Care, from further north in Hervey Bay.
Above: Simavita represenatative Mark Jaggers (left) QLD Health Secretary Julie Attwood and Star Gardens CEO Nigel Faull at the launch of Simavita's SIM system.
Also in Queensland, Simavita launched its wireless digital continence management system in the sunshine state this month, at the Star Gardens Residential Aged Care Facility Beaudesert, a town one hour's drive west of the Gold Coast.
Queensland Parliamentary Secretary for Health, Julie Attwood, did the honours on behalf of the company.
"This award winning Australian medical innovation will help provide higher quality and more cost-efficient care for the elderly," Ms Attwood declared, according to a statement from Simavita.
Smart Incontinence Management (SIM) uses small electronic devices worn in undergarments that detect incontinence "events", and alert aged care staff remotely. It also allows more individualised, evidence-based care plans to be developed, according to Simavita, based on the analysis of data captured over a period of time.
Above: QLD Parliamentary Secretary for Health, Julie Attwood, left, talks with Flo Rose, a resident of Star Gardens, where Simavita held the Queensland launch of the SIM system.
What are residents getting up to?
Tall Trees, who recently struck an agreement with LM Funds Management in order to expand their portfolio of supported living communities, have offered a peek at what some of their residents have been up to of late.
Staff and residents of Tall Trees Ocean View, a supported living neighborhood in Banora Point on the NSW North Coast, have jumped on the Movember bandwagon.
Residents James Murray, Jack Walker, Ken Anstee and Ray Watts, and staff member David Pickering have all sprouted facial hair for the month-long Movember fundraiser, which raises money for the Prostate Cancer Foundation of Australia and Beyondblue.
Mr Watts, who has only ever grown a moustache once before, in 1942, said he had a particularly personal connection to the Movember cause.
"I have had prostate cancer for eight years now, but this year is the first time I have heard about the idea of Movember, with David and a few of us getting on board with it," he said.

Above: Tall Trees residents Joan Dwyer and Mary Corones with U3A ukulele instructor Garold Simmers, centre.
Further north in Brisbane, residents of Tall Trees Tanah Merah have joined in the ukulele revival, after an initial lesson last week provided by U3A Brisbane (University of the Third Age) ahead of regular classes starting in February.
Tall Trees Lifestyle Coordinator, Kay Colenso, said many residents were already looking forward to the ukulele sessions, which add to other U3A classes already being held in the village.
"It's well known that learning a musical instrument helps to stimulate brain activity and can positively affect other areas of learning—we feel this is a simple and fun way of ensuring the ongoing mental health and happiness of our residents," Ms Colenso said.
Above: Butch with Peter Flann from Greyhound Rescue and Rod, who lives at Maitland Nursing Home.
Meanwhile Maitland Nursing Home, near Newcastle, has found another way to bring joy and companionship to residents – by adopting a retired racing greyhound.
The home's director of nursing, Julie Hughes, announced last week that an eight-year-old greyhound named Butch had been accepted on a permanent basis after passing a three-month trial period "with flying colours".
"Butch brings joy into the lives of our residents, especially those who don't get many visitors," Ms Hughes said. "If you're a dog lover, you know how they create happiness in everyday life."
Butch came to the home through Greyhound Rescue, an organisation that tries to find new homes for former racing dogs to save them from being put down.
The coordinator of the service, Peter Flann, said that greyhounds actually make very good pets, contrary to the common impression of them as high maintenance.
"Greyhounds are generally gentle, calm and rarely bark. They are ideal for people who don't want a highly active dog," Mr Flann said.
"Many people think because they are racing dogs, greyhounds need lots of exercise. In fact, greyhounds are couch potatoes. They only need one 30-minute walk a day."
Above: Rod from Maitland Nursing Home with Butch.