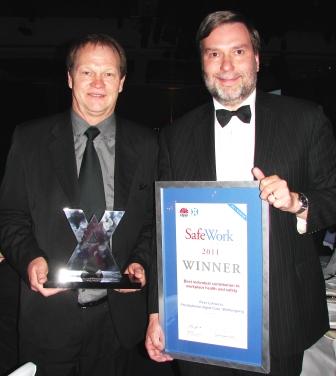 Above: SafeWork Award winner Peer Lehwess, from Presbyterian Aged Care Wollongong, with CEO Paul Sadler.
By Stephen Easton
A Presbyterian Aged Care (PAC) employee's helpful handywork has been judged the best individual contribution to workplace health and safety in NSW at the 2011 SafeWork Awards.
Peter Lehwess, a maintenance officer at the 33-bed PAC Wollongong site, won the award for designing and building a garbage chute at the facility to solve a difficult waste management issue that had troubled staff for years.
The judging panel decided that Mr Lehwess' contribution was the year's best effort in any industry to improve safety, from a person whose primary job responsibility is not workplace health and safety.
Paul Sadler, CEO of Presbyterian Aged Care (NSW & ACT), said it was very encouraging to take out one of the SafeWork Awards, which received more nominations this year than any previous year.
"Is always nice to have some positive news in aged care – and we're very happy to be contributing to that," Mr Sadler said.
For staff at the small 33-bed facility, he explained, the regular and inescapable task of taking out the garbage had previously been difficult and expensive.
"It's a very small site and physically, quite constrained, which meant in terms of handling all the waste on site, we'd always been struggling to work out the best way to do it.
"Staff were always lugging garbage bags and things through the facility, and we were ending up spending more money with the waste services company as well – they had us filling a big bin down the back. It wasn't always full when they picked it up but they always charged us the same."
Having worked as the maintenance officer at PAC Wollongong for about two years, Mr Lehwess was well aware of the problem.
He then set about using his practical 'handyman' skills to solve it, by designing and building the garbage chute, which has reduced manual handling and health risks associated with carting the trash through the building.
In another positive for PAC, the chute has also reduced waste management costs by allowing staff to use smaller bins.
Mr Sadler was also pleased to point out that the award comes after two years of focused efforts to improve workplace safety, and support programs that help injured workers get back into the workforce sooner.
This focus on safety has paid off, too, with a reduction in premiums for workers compensation insurance.
"We've seen our premiums fall from about $1.6 million to less than $800 thousand this year with the prospect that, depending on how our claims go this year, we might get them down to about $650 thousand in the coming year," Mr Sadler said.