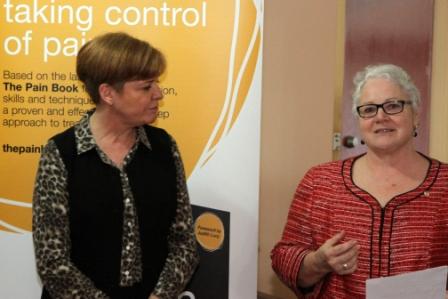 Physiotherapist and co-author of The Pain Book, Rebecca McCabe (left) and patient Mary Lynne Cochrane discuss the new book.
By Linda Belardi.
How the brain can retrain itself to respond to pain and thereby reduce unnecessary dependence on strong painkillers is the focus of a new book to be launched on Thursday.
In the context of the growing incidence of chronic pain and painkiller addiction, 'The Pain Book: Finding hope when it hurts' offers alternative, evidence-based strategies to manage persistent and ongoing pain through a holistic approach.
Drawing heavily on the new science of neuroplasticity – the theory that the brain can change itself – the book utilises strategies such as meditation, relaxation and stretching to control the symptoms of pain.
Written by pain specialist Professor Philip Siddall, physiotherapist Rebecca McCabe and clinical psychologist Dr Robin Murray from the HammondCare Pain Clinic at Greenwich Hospital in Sydney, the book's approach is achieving some significant results, with some individuals experiencing a reduction in pain by up to 50 per cent – the equivalent to 5 miligrams of morphine.
Rebecca McCabe, a physiotherapist with extensive expertise in chronic pain says it can be useful to think of the brain as having a natural medicine cabinet. With stretching and exercise it is possible to release endorphins from our brains, which are natural opiates and through relaxation techniques dopamine and serotonin are released which can also help reduce pain.
"We don't want people to rely on strong painkillers alone. We know that for people with pain, heavy medication has a huge impact on people's lives physically, psychologically and spiritually," she says.
"We want to use the potential in people as well as medication. We have the power ourselves to close some of the gates in the spinal cord which can reduce the volume of pain."
Research shows one in five Australians experience persistent, ongoing pain and this rises to one in three for people aged over 65.
McCabe says that finding alternative treatments is especially important for older people who can't take strong pain medications because of the effect on their memory and balance.
As a physiotherapist, McCabe says she is not only helping people to get moving physically, but she's also training their brains to not be so fearful of movement. "An increase in pain doesn't mean more damage," she says.
Currently around 55 people have gone through the program based on the principles in the book with promising results, which the authors are looking to publish soon.
One person who has completed the program is Mary Lynne Cochrane. She has lived with severe arthritis-related pain since her 20s and has undergone 12 surgeries in as many years, as well many other medical treatments.
She says the book's principles have been life changing and have helped reduce her use of heavy medication.
"I learned to see pain in a new light, I have control over my pain for the first time, it doesn't control me. I learned to exercise rather than just sit in bed and rest. I'm doing more exercise than I have ever done before. It is whole mind-change," she says.
While past treatments and medical interventions may have taken away the pain, she says, they also caused anger, depression and low self esteem.
"Chronic pain affects your whole life not just your joints or where the pain is and it controlled how I lived and how I functioned.
"What interested me about this approach was that it was a holistic approach. It looks at the whole of you rather than the just the pain. By changing your mind set you can recognise and take steps to control the pain rather than letting it control you. There is hope out there. Chronic pain is not a life sentence," she says.
Written for both health professionals and anyone living or working with pain, the book covers all major causes of pain including migraine, back pain, fibromyalgia, injury and amputation.
The Pain Book: Finding hope when it hurts will be launched by author and broadcaster Anne Deveson AO at Berkelouw Book Store, Paddington in Sydney on August 1 at 6.30pm.
The Pain Book will also feature in a pack of pain-related books to be provided to every library in NSW. An ebook is also available to download.
For more information or to order a copy visit: www.hammond.com.au/shop/pain-managment/the-pain-book