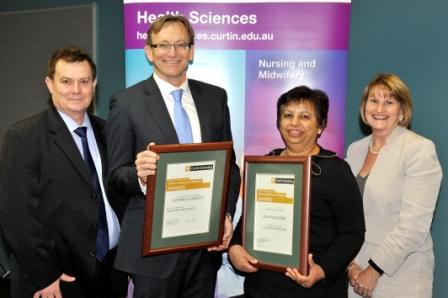 Above: Stephen Carmody receives his new title.
By Kate Horowitz
A leader in aged care nursing has been honoured with the title of Adjunct Associate Professor for his outstanding contribution to health in Western Australia and research work with Curtin University.
Stephen Carmody, General Manager of Health at Silver Chain was recognised for his life's work by the School of Nursing and Midwifery at a nursing and midwifery leadership event held on Tuesday 3 May at Curtin's Bentley campus.
Mr Carmody, who has practised as a nurse for 32 years, 10 of them at Silver Chain, described the honour as "very humbling".
"I suspect I was basking in the reflective glory of the work of many clinicians and researchers that have worked collaboratively with Silver Chain and Curtin University," he said. "I am very proud to receive the award. We have had a great relationship with Curtin University."
Silver Chain has worked in conjunction with Curtin University for more than 15 years to produce numerous research projects including studies on palliative care, wound care and healing, bereavement and end of life care.
The title is honourary, acknowledging the close partnership between Curtin University and Silver Chain. Mr Carmody says the two organisations have a "long-established relationship which is very productive, resulting in lots of articles in prestigious journals."
Silver Chain also works alongside Edith Cowan University, University of Western Australia and Notre Dame University.
Professor Jill Downie, Pro Vice-Chancellor of the Faculty of Health Sciences at Curtin University, said Mr Carmody's nursing career had been "exceptional".
"He has held a number of prominent positions in the health arena including Chief Executive Officer/Director of Nursing at St John of God Hospital Geraldton. During his time as CEO this hospital was awarded the Australian Private Hospital Association Award for Excellence and a WorkSafe Gold Award."
Professor Downie said that Mr Carmody's extensive background in health and leadership qualities will strengthen Curtin University's position as a leading provider of health education in Western Australia.