"They don't make them like Isla anymore," says the voiceover of the trailer of a new documentary.
Isla's Way chronicles a year in the life of an 87-year-old Aussie battler at her home in the Adelaide Hills where she lives with her partner of 40 years, Susan. But the straight-talking, wise-cracking Isla is adamant she is not a lesbian – "I am Isla, full stop," she says – although she freely admits her "constant companion" is.
The feature-length film was the idea of Isla's grandson David Roberts, also the doco's cinematographer. "David told Marion Pilowsky – the director – about his grandma and suggested Marion meet her," producer Georgia Humphreys tells Australian Ageing Agenda. "When she did, Marion knew that Isla's story of resilience and determination should be told."
Over 84 minutes, Ms Pilowsky's film depicts an ordinary woman who has lived an extraordinary life. Isla's lived experience of rural Australia is "a fascinating story of a woman well before her time," says Ms Humphreys.
Filming with Isla was always surprising, she says. "There is never a dull moment with this woman. Some of her stories were beyond our modern comprehension, but she retells them without batting an eye."
As a newlywed, bush mechanic Isla ran a sheep station 620 kilometres from Adelaide. As well as shearing sheep, building sheds, fixing trucks, mending roofs, caring for her sick husband, and raising four children in severe economic hardship, Isla found time to become a carriage-driving champion.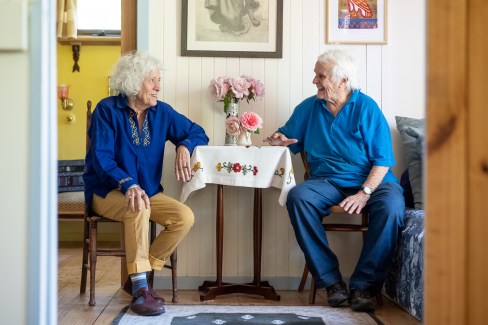 Nearly 90 years of age, Isla has no plans to slow down or age gracefully. "Isla is not your typical sweet old lady," says Ms Humphreys. "She has a spine of steel and won't be told."
Indeed, the octogenarian great-grandmother is intent on carriage-driving one final time. "Her family is dead against it," says Ms Humphreys, "but there is one last chance for her to do it at her grandson's wedding."
Ms Humphreys describes Isla's Way as "a homage and celebration of Aussie battlers doing it tough and the quiet achievers of our country." It's also "an insight into the world of the early settlers of South Australia, their no-nonsense strength and determination."
The documentary played to packed houses during this year's Adelaide Film Festival last month. "It's also been invited to the Antenna Documentary Film Festival in Sydney coming up in February and will be included in the Sydney Film Festival's Travelling Festival to Darwin and Alice Springs," says Ms Humphreys.
Meanwhile, Isla's Way is currently on release at selected cinemas across the country. "Check your local cinemas for other sites and we will see you at the pictures."
Main image: Isla with a four-legged friend
Comment on the story below. Follow Australian Ageing Agenda on Facebook, Twitter and LinkedIn, sign up to our twice-weekly newsletter and subscribe to AAA magazine for the complete aged care picture.