Tasmanian Liberal senator Richard Colbeck has been given the aged care portfolio in Prime Minister Scott Morrison's ministry reshuffle.
Mr Morrison, who announced his second ministry in Canberra on Sunday, has appointed Mr Colbeck Minister for Aged Care and Senior Australians following the promotion of Ken Wyatt to cabinet where he will lead the Indigenous Australians portfolio.
Aged care remains a junior ministry within the health portfolio, which Greg Hunt continues to lead as Minister for Health.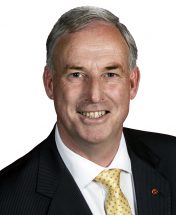 Mr Colbeck, who is based in Devonport, was first elected a senator for Tasmania in 2001 and has held roles in a number of portfolios including health, agriculture, fisheries and forestry and innovation, industry and science.
He was the tourism and international education minister and the minister assisting the trade and investment minister from September 2015 to July 2016 in Malcolm Turnbull's government.
Mr Colbeck, who has also been appointed Minister for Youth and Sport, said he was excited to take on the portfolios.
"It is an important time in these portfolios, particularly with the aged care royal commission underway and the need to support senior Australians in their later life," Mr Colbeck said.
Mr Wyatt, who has been minister or assistant minister for aged care since September 2015, has been appointed Minister for Indigenous Australians.
He is the first indigenous Australian appointed to cabinet.
The new ministry is due to be sworn in by the Governor General on Wednesday.
Peaks welcome new Minister

Aged care provider and consumer peak bodies have welcomed Mr Colbeck to the role and called on him to make urgent improvements for the sector.
Aged and Community Services Australia CEO Patricia Sparrow said the not-for-profit aged care sector was looking forward to building a relationship with Mr Colbeck.
"Congratulations to the new minister for taking on what is one of the most important and potentially rewarding posts in the new parliament. There are significant challenges, but also huge opportunities presented by our ageing nation," Ms Sparrow said.
Australia needs a better plan to tackle the ageing population, she said.
"We are delivering our incoming government brief to the new minister and are committing to engaging constructively to come up with this long-term plan," Ms Sparrow said.
Leading Age Services Australia CEO Sean Rooney said improving aged care was an urgent priority.
"Minister Colbeck brings to the role fresh eyes along with a wide breath of professional and parliamentary experiences at a critical time for Australia's aged care system," Mr Rooney said.
He reiterated calls for the government to fix residential aged care funding, legislate a maximum wait time of three months for home care services, invest in workforce growth and development and develop a comprehensive national ageing well strategy.
"Our sector stands ready to work with Minister Colbeck and the Morrison Government to deliver a world class aged care system,"  Mr Rooney said.
COTA Australia chief executive Ian Yates said planning for an ageing population needed to be a national priority.
"Our ageing population also presents challenges for our aged care, health care and retirement incomes systems that can and must be planned for in a coordinated manner across all portfolios," Mr Yates said.
He said COTA also looked forward to working with the new ministerial team to take up those challenges.
Comment below to have your say on this story
Subscribe to Australian Ageing Agenda magazine and sign up to the AAA newsletter