A new state-of-the-art residential aged care facility, worth $35 million, will soon be opened in Sandgate by Masonic Care Queensland.
The 153-bed facility called 'Lucinda' will include day spas, sensory gardens with a car, garden shed, water features and raised garden beds. The official opening will take place in March, just after its new residents have moved in.
Medical, dental and physiotherapy treatment rooms will also be located within the facility, along with a hairdresser and several activity and private spaces.
"This is the start of a new era for Masonic Care Queensland and the latest step in our plan to redevelop our major sites into modern, fully integrated retirement and care communities," said CEO of Masonic Care Queensland, Robert Gore.
"The facility will offer accommodation, lifestyle, support and care services to allow residents to live in the same community for as long as they wish."
Residents will also be able to enjoy all the community facilities already available or planned for the site including pool and community club, café, shop, chemist, hairdresser, doctor and allied health services.
The Sandgate site will include a number of refurbishments, an extension to the special care unit, community facilities and a number of modern retirement living apartments.
The next stage in its development will be to build the first 36 retirement living apartments. Construction of these apartments is planned to start later this year, with completion due in 2012.
The new apartments will be designed for independent retirees who also want to access support services.
The apartment blocks will consist of a combination of one bedroom plus study, two bedroom, two bedroom plus study and three bedroom apartments.
Expressions of interest are currently being sought from anyone interested in the proposed, modern, retirement living apartments. For more information click here..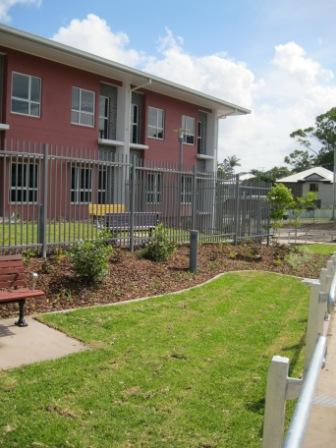 Masonic Care Queensland's new residential facility, 'Lucinda'.