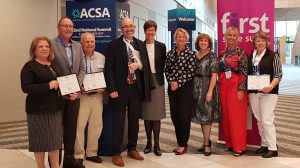 Royal Freemasons' Benevolent Institution, Feros Care, Dr Tim Henwood and Carolyn Wallace are among the winners of national aged care awards announced this week.
Aged and Community Services Australia's national awards honouring providers and individuals working and volunteering in the sector for their compassion, commitment and achievements were announced at ACSA's National Summit in Melbourne this week.
Top honours went to New South Wales-based aged care and retirement living provider RFBI. It was named Provider of the Year for its focus on rethinking care and continuously improving services and processes to enable residents to live their lives to the fullest.
The Regional, Rural and Remote Provider of the Year award went to Queensland-based provider Feros Care for its growth from one facility to a national regional provider with 55,000 clients. Feros Care's focus is on delivering care to empower lives and break aged care discrimination.
The top individual award went to Southern Cross Care SA's group manager of community health and wellness services and respite programs Dr Tim Henwood, who was named Employee of the Year.
Dr Henwood uses his background in research to implement wholistic evidence-based care reablement services for older South Australians and is developing the next generation of allied health clinicians.
Carolyn Wallace from Tasmania picked up the Distinguished Service in Care award for her significant contribution to senior roles in the aged care sector for several decades.
Ms Wallace was also instrumental in guiding Aged and Community Services Tasmania during ACSA's transtion from a federated to national model.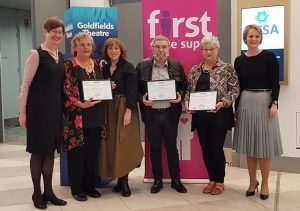 Volunteers, trainees, projects honoured
Elsewhere at the awards Jim Richardson, who volunteers with RSL Care in South Australia, was named Volunteer of the Year.
Mr Richardson commenced volunteering for RSL Care in June 2017 for a few hours a week and now spends 18 hours a week over five days helping and interacting with residents.
The Trainee of the Year award went to care services employee Carol Goodger, who works at New South Wales aged care provider Warrigal.
Ms Goodger, who is seven months into her aged care career has been recognised for enthusiasm, compassion and commitment to the sector.
Western Australian aged care provider SwanCare won the Innovation in Service Design award for its Senior Citizen's Partnership project.
The project aims to help develop future doctors and nurses to provide care and services to older people. It emphasises communication, empathy and understanding the ageing process and its impact on individuals, partners and their families.
ACSA CEO Patricia Sparrow said it was important to recognise the good work being done in the sector.
"These winners are just some of the many in the sector that we should look to as shining examples of what aged care providers can contribute to our communities," Ms Sparrow said.
"ACSA congratulates all the winners, as well as the nominees, for their commitment to deliver quality care to many older Australians."
The awards, which were sponsored by aged care industry super fund First State Super, were announced across two days at the ACSA National Summit.
The award nominees were winners at ACSA's state awards held in July and August this year.
The ACSA National Summit was held at the Melbourne Convention and Exhibition Centre on 8-10 October.
Read more from the ACSA National Summit
Royal commission 'not a one way process'
Colbeck calls for sector to positively promote aged care work
Provider spent years finding the way back to its purpose
Read Community Care Review's summit coverage
New model as self-managed care plummets
Provider told to brace for impact of pricing changes
Home care workers reluctant to report risk
Comment below to have your say on this story
Subscribe to Australian Ageing Agenda magazine and sign up to the AAA newsletter