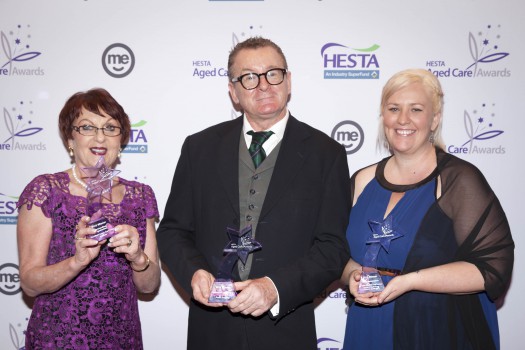 Initiatives that empower a predominantly female workforce, provide care for those with a mental illness and offer live music to the masses make up the winners of the 2015 HESTA Aged Care Awards.
Southern Cross Care (Vic) has won in the outstanding organisation category for an initiative that aims to empower its predominantly female and culturally and linguistically diverse workforce.
Catholic Healthcare picked up the team innovation award for its program providing care to older Australians with a mental illness at the Charles O'Neill Hostel in Newcastle.
The remaining prize for individual distinction went to Paul Brophy from the Brotherhood of St Laurence's Sambell Lodge in Victoria for staging musical events for more than 6,000 residents from 20 care homes.
The annual HESTA aged care awards recognise organisations, teams and individuals for their exceptional contribution to improving the quality of life of older Australians.
HESTA CEO Debby Blakey said the three winners reflected the important work of aged care professionals in meeting the challenge of providing high-quality care and support to the growing number of older people in our community.
"Our winners are making a real difference, ensuring Australians age well in a variety of residential settings. We are proud to acknowledge their achievements and give them the recognition they deserve," Ms Blakey said.
The winners, which were announced at an awards dinner in Canberra on 27 August, share in a $30,000 prize pool provided by the industry super funds' owned bank ME.
Pastoral and spiritual practices honoured
Queensland and Victorian residential aged care provider Churches of Christ has picked up top honours at the 2015 PASCOP Annual Quality in Pastoral and Spiritual Practice Awards for its pilot dementia church service program.
As part of the initiative, around 42 per cent of residents living with dementia have attended weekly church services run from the provider's facilities in south east Queensland since 2014.
The PASCOP Quality Practice Awards, which is a national awards program dedicated to innovation and excellence in pastoral and spiritual care of older people, were announced on 26 August in Sydney at the Elizabeth MacKinlay Public Lecture.
Churches of Christ, which has 1,800 aged care residents, won $1,000 and the opportunity to present at a PASCOP Meaningful Ageing seminar and national conference for the pilot program, which will now be expanded the organisation's 15 other dementia specific units.
PASCOP executive director David Petty said the church service made a positive, tangible difference to the residents as well as staff and volunteers.
"The program highlights pastoral and spiritual care in practice for residents who are often seen as difficult to connect with."
Elsewhere, Baptcare in Victoria was a finalist for its Community Aged Care Chaplains program, which involves 45 pastoral visitors spending time with older people in their own homes.
The program reaches around 100 people a month and has now been replicated by BaptistCare in New South Wales, ACT and Western Australia.
Mr Petty said the program had shown a marked difference for clients who were isolated, housebound, and on community aged care packages. Before the program started, only 20 clients in each region of Baptcare Victoria had access to pastoral care through its Chaplains.