Former Benetas chairman John McKenzie has been awarded an Order of Australia Medal for his service to the community.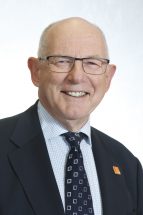 He is among group of fellow Australians including a philanthropist, a financial expert and a charity CEO who were recognised for their contribution and dedication to the community and the aged care sector this Australia Day.
The Australia Day 2019 Honours List recognises 1,400 people across the nation for their contribution to the community and various sectors, making it the largest list of recipients since it was first established in 1975.
The Governor-General and Chancellor of the Order of Australia, Sir Peter Cosgrove said the award recipients come from a range of fields.
"Their contributions are diverse yet there is a unifying theme: they have dedicated themselves to service. They have worked tirelessly for others, to improve local communities and to make Australia a better place," Mr Cosgrove said.
"While some are well-known, the majority are unsung heroes," he said.
Benetas CEO Sandra Hills commended Mr McKenzie, who was chairman between 2008-17, for helping make the organisation a world leader in aged care.
She said he arrived at Benetas at a time when it was struggling financially and operationally and brought about a much needed cultural change which positioned it as a leader in aged care service provision and a key advocate for older people.
"John applied his strategic vision with a genuine commitment to and interest in supporting those most in need, steering the organisation to developing and implementing its five-year strategic plan as well as achieving financial surplus," she said in a statement.
"Under his guidance and support, new models of care have been introduced which see a shift away from institutional aged care support services to ones which place each older person at the centre of their care."
Pediatrician Dr Suzanne Packer was named Senior Australian of the year.
COTA CEO Ian Yates said the calibre of Dr Packer and all other senior of the year finalists demonstrated the outstanding contributions being made by senior Australians across a wide range of fields.
Other Australia Day honour recipients
Pauline Gandel from Toorak, Victoria, is one of 19 people this year to be appointed a Companion of the Order of Australia (AC), which is the highest honour and awarded to someone for their service to Australia or humanity.
Ms Gandel has been recognised for her service to the community through humanitarian, philanthropic and fundraising endeavours, to social inclusion and to Australia-Japan relations.
She has been a contributor and patron to Emmy Monash Aged Care for 11 years.
Richard Michael Haddock from Bronte, New South Wales, was among 71 people appointed an Officer of the Order of Australia (AO), which recognises people for their high degree of distinguished service to Australia or humanity.
Mr Haddock, who was appointed a Member of the Order of Australia (AM) in 2012, was honoured for his distinguished service to the community, charity groups, the Catholic Church and the finance sector.
He has held the role of chairman of home aged care provider CatholicCare Sydney's trustee board since 2004 and is also the chair of its advisory board.
Elsewhere, Peter Ernest Bicknell is among 280 people appointed a Member of the Order of Australia, which honours someone for their services in a particular field of activity or group.
Mr Bicknell from Semaphore, South Australia, has been recognised for his service to social welfare and to the greater Southern Australian community.
He served as the CEO of UnitingCare Wesley Port Adelaide from 1998-2008 and took on the role of its board chair from 2008-2016.
Mr Bicknell was also the chair of UnitingCare Australia from 2006-2017.
The honours list also acknowledges 752 individuals who were awarded a Medal of the Order of Australia (OAM) for their service that is worthy of particular recognition.
Suzanne Mary Cardwell from Wodonga in Victoria was among the recipients. She has been recognised for her service to community health, particularly in aged care.
Ms Cardwell has been involved with Westmont Aged Care Services since 2004, serving as a lobbyist and its director and company secretary until 2013 and volunteering at the facility since then.
Other recipients awarded the OAM for their contributions to the community including the aged care sector include:
Girolamo Marcello Alberti, Beaconsfield, Western Australia
Stephen Anthony, Mosman, New South Wales
Sally Anne Garratt, Victoria
Bakhos Georges, New South Wales
Nicole Danielle Johnston, Barton, Australian Capital Territory
Nicole Maree Kiss, Cowra, New South Wales
Petar Kozlina, Ashfield, New South Wales
Stuart Gerald Lister, Clear Island Waters, Queensland
Howard Hendrick, Loxton, South Australia
Jennifer Margaret Grainger, Dandenong, North Victoria
Peter Geoffrey Henderson, Eight Mile Plains, Queensland
Comment below to have your say on this story
Subscribe to Australian Ageing Agenda magazine and sign up to the AAA newsletter