Dementia Australia CEO Maree McCabe has congratulated dementia and aged care advocate Ita Buttrose for being awarded an honorary UNSW Medicine doctorate.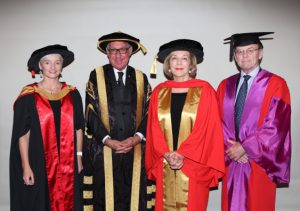 Ms McCabe said Ms Buttrose's support over many years as Dementia Australia's national president and ambassador had been invaluable and she had devoted much of her time to promoting understanding of dementia and improving the quality of life of those affected.
"Ita has been instrumental in so many of Dementia Australia's achievements, and her commitment has played a huge role in improving the lives of Australians living with dementia, their families and carers," Ms McCabe said in the organisation's newsletter.
"On behalf of everybody at Dementia Australia I would like to thank Ita for all she has done and continues to do. Congratulations Ita on this well deserved achievement."
Ms Buttrose received the honorary doctorate for outstanding services to health, the community and empowering women in business at the UNSW Medicine graduation ceremony in November.
"Throughout her career, Ita has been a committed contributor to many community and welfare organisations and is passionate about the field of health and aged care and the rights of older Australians to receive appropriate and adequate care," said UNSW Dean of Medicine Professor Rodney Phillips said in a statement.
Ms Buttrose served as Dementia Australia's national president between 2011 and 2014  and is currently an ambassador for the organisation, as well as supporting the UNSW Centre for Healthy Brain Ageing.
She said she was honoured and delighted to receive the honorary degree.
"I've had two careers, actually: one in journalism and publishing, and the other in a voluntary capacity in the not-for-profit sector – supporting charities and community causes, particularly those involved with health and wellbeing," she said in her address.
"My voluntary work is a valued part of my life. I think it enriches a person's life and makes us grow as people and I recommend it to you all."
Subscribe to Community Care Review