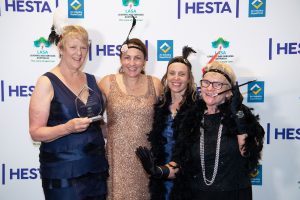 Victorian personal care assistant Tyla Haining has received the inaugural Next Gen Young Leader Award at an industry event this week.
Leading Age Services Australia recognised outstanding achievements of Victorian and Tasmanian aged care workers at the Excellence in Age Services Awards ceremony held at the 2020 the Tri-State Conference in Albury on Tuesday evening.
The Next Gen Leader Award is a new category recognising an innovative, bold and inclusive leader under the age of 40.
The award targets an individual who has made an outstanding contribution to the sector and has used passion, drive and initiative to improve the lives of older people.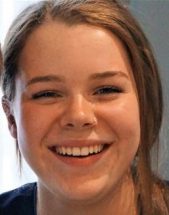 Ms Haining, 19, is the youngest personal care assistant on her team at Martin Luther Homes in Victoria.
She won for being an inspiration to her colleagues.
Ms Haining's outstanding achievements including developing a communication strategy to build rapport with residents and encouraging them to participate in activities and lifestyle program, and mentoring new staff.
Individual winner
Julie Folan, executive manager of quality and compliance at Victorian-based aged care provider Cooinda Village, won the individual award for her passion and support of residents.
Ms Folan commenced at Cooinda Village 22 years ago as an enrolled nurse and worked her way up to become an executive.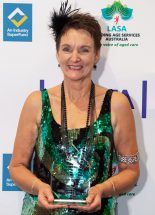 She has been the driving force behind many community events including Cooinda's dementia awareness event and the Benalla Cancer Foundation event, which involves residents fundraising, creating paper lanterns and joining in an evening walk.
In her current role, Ms Folan has a variety of responsibilities, including guiding families through the admission process and managing quality and continuous improvement action plans.
Rising star
Also from Cooinda Village, endorsed enrolled nurse Amorette Smith received the rising star award for her outstanding leadership.
Ms Smith leads a high needs aged care team at the facility and is a role model and mentor to staff.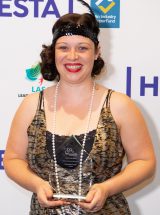 She provides care for up to 28 very frail residents each day and aims to ensure they receive the highest standard of person-centred care from the whole team.
Ms Smith is part of a team who developed a program that focuses on a different resident each day to undertake a personal welfare check.
Organisation winner
Not-for-profit Victorian-based aged care provider Princes Court Homes won the organisation award for its innovative and engaging programs including the Mallee's Living Histories project.
The project, which involves residents sharing their stories with volunteer writers, has published a 400-page book with 15 individual stories.
Princes Court Homes has also partnered with the Mildura English Language Centre to form an intergenerational project with refugee children aged 11 to 14. The children regularly visit residents to practice English while playing games, cooking and reading.
Best team
A group of four aged care providers and a public education provider have been awarded the team award for focusing on enhancing the lives of older people in north-west Victoria.
The CEOs of Princes Court Homes, Chaffey Aged Care, Jacaranda Village and Murray House partnered with Sunraysia Institute of TAFE to offer leadership training to more than 30 aged care staff.
The group received government funding to offer the 10-month course, which aims to foster new leaders and share knowledge about improving care.
LASA CEO Sean Rooney congratulated the winners and also the other finalists.
"I congratulate every one of you because your work highlights the fact that we should look within our own sector to find many of the best solutions for care quality and ageing well," Mr Rooney said.
"It is also particularly pleasing to be honouring the inaugural Next Gen Award winner and nominees, for their leadership among the younger generation, who will play a critical role in the future of care," he said.
The winners are now in the running for national awards, which will be presented at LASA's National Congress in Canberra in October.
Comment below to have your say on this story
Subscribe to Australian Ageing Agenda magazine and sign up to the AAA newsletter