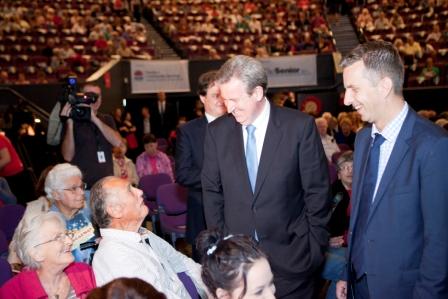 Above: NSW Premier, Barry O'Farrell and Minister for Ageing and Disability Services, Andrew Constance, greet seniors at the 2012 NSW Seniors Week Achievement Awards ceremony at Sydney Recital Hall
The oldest qualified personal trainer in NSW, an 87-year-old marine engineer who restores tall ships, an 81-year-old Tai Chi instructor, the 73-year-old founder of one of Australia's largest commercial cleaning contractors; and an 82-year-old Ju-Jitsu instructor are among the 2012 NSW Seniors Week Achievement Award recipients.
NSW Minister for Ageing and Disability Services, Mr Andrew Constance MP, has congratulated all 60 recipients of the 2012 Seniors Week Achievement Awards at a ceremony at the City Recital Hall in Sydney this week.
The Achievement Awards provide an opportunity to honour NSW seniors for their leadership, initiative and the contributions they make to their communities.
The awards include categories for both individuals and organisations and any NSW resident who is 60 years of age or older is eligible for nomination. Aboriginal and Torres Strait Islander people as well as people with a lifelong disability are eligible if they are 50 years or older.
The minister said he was honoured to recognise the achievements of all sixty of the award recipients across six areas of endeavour.
"These people display a wide variety of skills, energy and enthusiasm and truly 'live life', which is the theme of Seniors Week.
"They unselfishly give their time to help and improve the lives of others in their Communities," Mr Constance said.
According to the minister, NSW Seniors Week, now in its 54th year, is the biggest seniors' event in the Southern Hemisphere. He said an estimated 250,000 seniors were expected to attend more than 900 local events throughout the state starting on Monday 19 March and finishing on Sunday, 25 March. Check out the 2012 NSW Seniors Week event highlights here.
Two winners: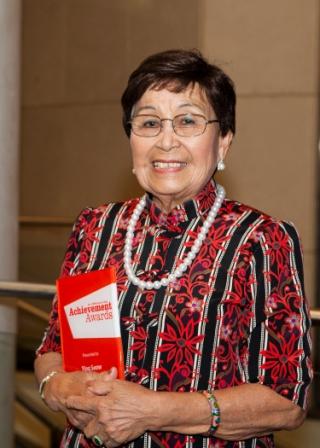 Above: Awarded for Community Service: Ying Seow, 78 of Strathfield, is the leader of the Hua-an Seniors Group at the Chinese Australian Services Society. For 18 years, she has volunteered her time to encourage socially isolated seniors in western Sydney to participate in activities such as Tai Chi, singing and dancing. Ying also organises performances at community festivals such as Chinese New Year and NSW Seniors Week.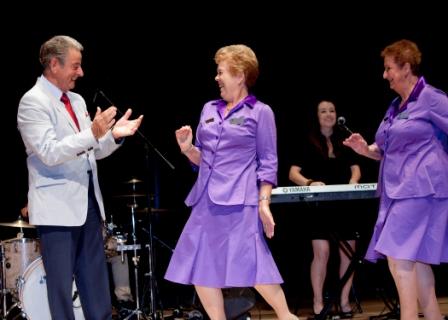 Above: Winners of the organisaton award in the Health and Well-Being category –The Silver Belles mature tap dancing group is made up of people aged from 36 to 79 years. It stages free concerts in tap, soft shoe and jazz dancing at nursing homes and retirement villages in the Illawarra and for charities. The Silver Belles have won eisteddfods and also perform at major concerts in their region.
Full list of winners, go to: www.nswseniorsweek.com.au/events/awards
Nominations for the 2013 NSW Seniors Week Achievement Awards will open in August 2012. For information go to: www.nswseniorsweek.com.au