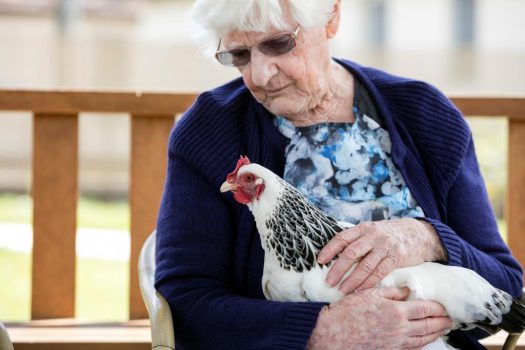 A program that studies the health and wellbeing benefits for residents that come from looking after hens in residential aged care is among the winners of this year's Better Practice awards.
The Whiddon Group trialled the HenPower program as a new initiative to improve quality of life for residents through combatting social isolation and loneliness.
The HenPower program was created by Equal Arts in the UK, which originally aimed to give older men living in the community increased purpose through delivering henkeeping activities into aged care facilities.
Four Whiddon services in regional, rural and remote NSW – Casino, Condobolin, Maclean and Bourke – volunteered to take part in a trial of the program.
The results showed that residents experienced a greater sense of purpose and responsibility from caring for the hens and undertaking regular daily chores, Whiddon reported.
HenPower was found to be particularly effective at bringing people together and for combatting social isolation and loneliness.
There were also benefits experienced to both physical and mental health. The program involved additional incidental exercise, going out everyday to visit the chooks, and extra hours spent outside in the fresh air for many residents.
Mental health benefits were reported for all those residents who bonded with their hens and sat for periods of time stroking them on their laps, the provider said.
Elsewhere, an innovative use of telehealth to deliver dental reviews for aged care residents has also been recognised in this year's Better Practice awards.
The "teledentistry" program being used by Darling Downs Hospital and Health Service's four aged care facilities enables residents to have oral checks and dental reviews via a live streaming video-conference appointment with a dentist.
From their office in Toowoomba the dentist directs an oral health therapist at the facility to locate a probe into the resident's mouth for examination.
The service said its approach had enabled residents to receive optimal dental care while remaining in their own surroundings and eliminated the need for frail residents to be transported to the oral health clinic via ambulance with a nurse escort.
NSW-based provider Uniting picked up four of the 12 awards granted in the state this year.
Among its initiatives recognised was the Our Choice staff recruitment program, in which residents participate as panel members in staff selection interviews.
Another Uniting initative to be recognised was its Community Outreach in Public Housing program, which promotes social participation through group activities for the 360 tenants of Greenway Estate, a Department of Housing Estate in Sydney. Three quarters of tenants are aged over 65, and all are financially and socially disadvantaged.
The full list of winners in this year's Better Practice awards is available here
Want to have your say on this story? Comment below. Send us your news and tip-offs to editorial@australianageingagenda.com.au 
Subscribe to Australian Ageing Agenda magazine