In this story:
Aged Care Guild welcomes new member
Bethanie partners with the Australian Medical Association
Eastern Health partners with legal centre
Aged Care Guild welcomes new member
The Aged Care Guild, the peak body representing large for-profit aged care providers, has announced Victorian-based provider Medical and Aged Care Group as a new member.
Medical and Aged Care Group is a family-owned and managed business operating eight residential aged care facilities along with retirement living and primary care services across Melbourne and the Latrobe Valley, .
MAACG managing director Cameron McPherson said the organisation looked forward to working with the Guild network.
"We are delighted to be invited to join the Aged Care Guild. For us, the Guild provides real advocacy and the opportunity to shape policy through a very central and influential platform." Mr McPherson said.
Aged Care Guild CEO Matthew Richter said MAACG provided an interesting and diversified business offering.
"[W]e are looking forward to working with their team to help pursue their strategic objectives, and better serve and support their residents," Mr Richter said.
Bethanie partners with the Australian Medical Association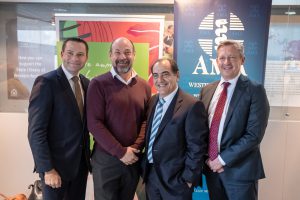 West Australian aged care and retirement living provider Bethanie has partnered with the Australian Medical Association to establish a new leadership program.
The 18-month Bethanie Leadership Excellence program has been customised to meet the needs of aged care leaders and and was initiated in recognition of the important role leaders play in creating opportunities and experiences for an ageing population.
The program uses a blended learning approach combining seminars, online learning and workplace projects. Program graduates will earn a nationally recognised Diploma of Health Administration.
Bethanie CEO Chris How said the program provided a strong foundation for emerging leaders.
"Through investing in the development of contextualised, role-focused programs, we have the opportunity to articulate, explore and develop what it means to be an excellent leader at Bethanie," Mr How said.
It "delivers an innovative approach to capability development in partnership with the AMA."
The program is being offered to 20 operational and emerging leaders at Bethanie.
Eastern Health partners with legal centre
Eastern Health has partnered with Eastern Community Legal Centre to develop a new support system to assist older people experiencing elder abuse in Melbourne's east.
The health justice partnership will develop and trial a service that aims to train healthcare and social workers to be able to identify elder abuse and refer them to appropriate services. Specialised legal support services will also be provided.
Eastern Health executive director of clinical operations Shannon Wight said Eastern Health has a crucial role in working with older people who are at risk of abuse.
"This health justice partnership ensures that our health service builds on work already underway within Eastern Health to better identify and respond to older people experiencing abuse, while maintaining their right to making choices about how their safety is protected. I look forward to seeing the benefits that it will deliver for our patients," Ms Wight said.
Eastern Community Legal Centre CEO Michael Smith said the program would help prevent elder abuse.
"This funding will enable ECLC and Eastern Health to identify and respond to elder abuse as early as possible," he said.
Have we missed a partnership or merger? Send us the details and an image to editorial@australianageingagenda.com.au